Security Market Offers Range of NVRs for Integrators and End Users.
Network video recorders (NVRs) are at the center of today's IP video systems. The video surveillance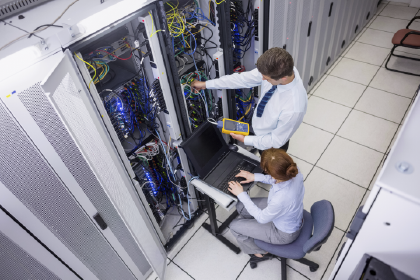 market includes a wide range of NVR choices for integrators and end users alike. NVR appliances include purpose-built machines that have embedded software systems as well as servers that are sold by video management system (VMS) software vendors and that have been pre-installed and preconfigured with their latest software capabilities.
This article will take a look at some of the latest NVR products available on the market.
Many Choices, Common Interface
Hikvision provides a full line of NVR appliances, ranging from 4-, 8- and 16-channel plug-and-play models with integrated 802.3af/at PoE to the enterprise-level 9600 Series with options for up to 256 channels. Hikvision's 9016HQHI "Tribrid" recorder in its Turbo HD line can connect analog, IP and HD-TVI cameras simultaneously. It has 16 analog inputs that autodetect HD-TVI or traditional analog and 16 IP inputs that support cameras with up to 6-megapixel resolution. All of Hikvision's NVRs use a common graphical user interface (GUI), so integrators only need to learn one GUI.
Targeting Commercial Applications
Bosch offers a line of video storage for customers who have up to 128 channels with a focus on storage and all-in-one video management solutions. Bosch targets commercial applications, such as retail and hotels – anywhere from small stand-alone sites to multi-site applications.
Bosch's all-in-one DIVAR IP appliance comes fully loaded with video management software and advanced features that set Bosch appliances apart, according to the company. This includes built-in Dynamic Transcoding technology, which comes standard in the DIVAR IP appliances. Dynamic Transcoding together with the free Video Security app offers instant access to smooth live streams or HD images from a mobile device, regardless of available bandwidth.
Pre-Verified And Tested Hardware
Genetec network security appliances provide access to pre-verified and tested hardware configurations for video surveillance and access control deployments. Preloaded with Windows, Genetec Security Center and application wizards, Genetec network security appliances reduce the time and effort needed to deploy and commission systems in the field.
Genetec has invested in growing its portfolio of network appliances to suit the requirements of projects in various industries, ranging from compact appliances for small sites to highly scalable solutions for more complex system deployments.
For SMBs and other single-site customers, the appliances offer a flexible, cost-effective solution for replacing aging DVRs or deploying new IP video solutions.
The Genetec line of NVR appliance products starts with the SV-16, an entry-level appliance, designed for small- to medium-sized businesses (SMB). The SV-32 is designed specifically to meet the needs of larger retail and banking customers. The SV-32 is also powerful enough to host the Genetec mobile server for handheld/mobile devices (smartphones or tablets) with access to advanced mapping functionality.
The Genetec SV-PRO is the best suited for mid-sized enterprise and commercial, governmental and education verticals requiring the support of up to 100 cameras/256 readers. Essentially a 1U rack-mounted server, the SV-PRO was designed to accommodate up to 16 terabytes of storage with available RAID configuration options for added reliability.
Finally, the partnership between Genetec and BCDVideo has yielded a whole range of robust servers for deployments of large-scale, enterprise surveillance systems. The BCDVideo SuperNova Series servers can scale to hundreds of cameras offering onboard storage for up to hundreds of Terabytes. Through BCDVideo, Genetec also offers high-performance client workstations designed to use Security Center GPU decoding capability to display more cameras and higher resolution video from a single workstation.
ONVIF-Compliant, Integrated System-In-A-Box
Panasonic System Communications Company of North America brings a range of end-to-end surveillance and recording solutions to the market. The new WJ-NV300 is an ONVIF-compliant, fully integrated network video surveillance system-in-a-box providing full HD and 4K camera viewing and recording of up to 32 channels through a built-in mouse-driven graphical user interface and featuring flexible camera and storage expansion options. There's no PC required for this all-in-one device, which offers 128Mbps recording bandwidth and two internal HDD slots with 3 and 4 terabyte drive storage capacity. Other features include a built-in full HD video decoder via dual HDMI outputs; real-time H.264 re-encoder to improve streaming to mobile terminals, and free Security Viewer 2.1 Free Android/Apple iOS APP supports mobile control.
Read the origination post at sourcesecurity.com