CLIENT WORKSTATIONS
gamma client viewing stations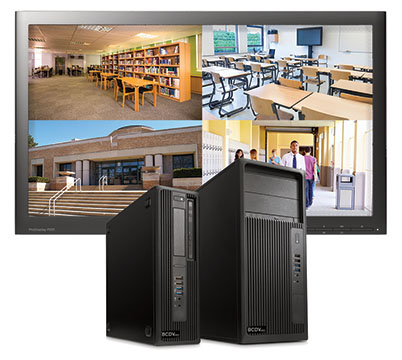 Increased Viewing Performance
GPU-accelerated computing is the use of a graphics processing unit (GPU) together with a CPU to accelerate deep learning, analytics, and engineering applications. Pioneered in 2007 by NVidia, GPU accelerators now power energy-efficient data centers in government labs, universities, enterprises, and SMBs around the world.
A simple way to understand the difference between a GPU and CPU is to compare how they process tasks. A CPU consists of a few cores optimized for sequential serial processing while a GPU has a massively parallel architecture consisting of thousands of smaller, more efficient cores designed for handling multiple tasks at once.
With NVidia cards in every workstation with CUDA parallel computing platform and programming model, BCDVideo client workstations have the parallel processing capabilities of recording servers, mobile servers, and other video processing services.
The use of hardware acceleration decoding and video motion detection can drastically reduce the number of recording servers needed in large installations. Benefits of this technology are also relevant for smaller installations, as smaller scale servers save space, energy, and cost.
Hardware acceleration also paves the way for widespread use of 4K cameras and processing-intensive video compression like H.264. This provides better situational awareness and saves disk space for installations of all sizes.
All workstations need to be reliable and support high-definition video. That's why BCDVideo client workstations are flexible enough to support increasing IP camera quantity and resolution, making it an essential part of any unified security solution.
Vertical Markets
The Gamma Workstation Series offers enterprise projects reliable, flexible deployment as a video wall controller, viewing client, access control, or video storage system.