NEPTUNE 
SERVER SERIES
purpose-built, powerful performance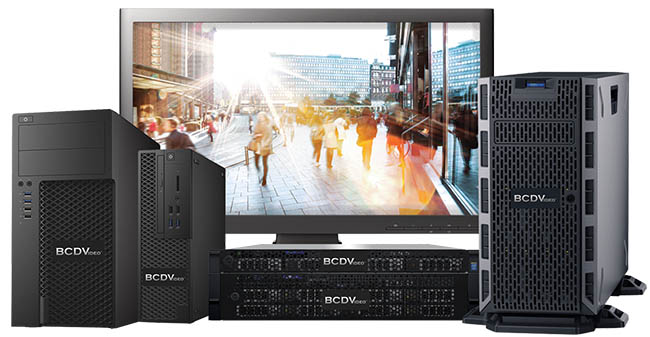 The BCDVideo Neptune Series is purpose-built to maximize write-intensive support for video surveillance applications. Security integrators can effortlessly upgrade analog systems or deploy robust video-optimized solutions for a variety of video surveillance environments.
Greater Versatility – Purpose-built to support system growth, video-optimized parts and a variety of form factors allow integrators to use Neptune Servers in a variety of video applications.
Accelerate Performance – Drive faster video applications while providing room for future growth with the latest Intel processors, DDR4 memory and PCIe Gen3 I/O.
Maximize Efficiency – Video Surveillance Grade Drives built for 24/7 video recording from high-definition cameras. Easily add HD cameras without a performance slowdown.
KEY BENEFITS
All BCDVideo Neptune Series video surveillance solutions come standard with key IP video optimized features like Video Surveillance Grade drives, SSD for the operating system, RAID 5/6 disk protection options, dual power supply options, the latest Intel processors, and a 5-year on-site next business day warranty plus lifetime tech support - including a Keep Your Hard Drive warranty.
Available on BCD104, BCD208 and BCDT08, iDRAC Enterprise comes with Lifecycle Controller (LC) providing advanced embedded systems management capabilities including system deployment, configuration, update, maintenance, and diagnosis. LC is delivered as part of the iDRAC out-of-band solution and system embedded Unified Extensible Firmware Interface (UEFI) applications.
iDRAC Enterprise comes with:
· Performance Monitoring
· Backup & Restore Configurations
· Virtual Console (up to six users)
· Remote File Share
· Two-Factor Authentication
Advantages of Video Surveillance Grade Drives
Optimized for DVRs and NVRs, video surveillance drives are tuned for 24/7 workloads in capacities up to 10TB. Equipped with enhanced firmware, this technology helps to minimize dropped frames and downtime with a workload rating 3x that of a desktop drive – ready to record up to 90% of the time while supporting up to 64 HD cameras.