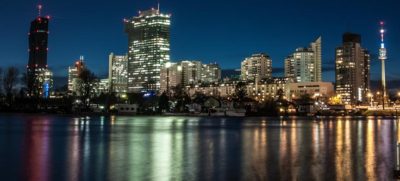 BUFFALO GROVE, IL – February 22, 2018 – BCDVideo announced today its further expansion into the European surveillance market by naming Vienna-based Ryan Solutions e.U. to represent the BCDVideo product line. Through this arrangement, Ryan Solutions e.U. will have access to BCDVideo's award-winning product portfolio including access control and video recording servers, SAN storage, networking, and client-viewing workstation solutions. Ryan Solutions' e.U. coverage will extend throughout Europe apart from the UK and Ireland.
Katerina Ryan, Ryan Solution's Managing Director, is a business development expert in the video surveillance industry with more than 10 years of experience driving sales and key partnerships throughout Europe – including seven years of experience representing Pivot3 storage. Additionally, Katerina holds a MSc degree with a major in International Business from Tilburg University.
"Katerina's reputation speaks for itself," said Max Burgess, BCDVideo Manager of International Markets. "Her proven track record of success, ability to communicate across five different languages, and unique understanding of the European market made her the perfect choice to deliver both the technology and value to our customers across Europe."
In addition to Austria-based Ryan Solutions e.U., BCDVideo representatives serve London, Toronto, Dubai, and Latin America.
About BCDVideo
BCDVideo's focus on proactive response and personal service has allowed us to become the most trusted source for security integrators to find innovative, purpose-built IP video storage solutions. Our award-winning products cover video surveillance storage servers, access control servers, industrialized servers and switches, client viewing stations, networking, and professional on-site services.
We proudly work with the world's top security integrators implementing security solutions certified by the top Video Management Software (VMS) and digital camera manufacturers. Our global footprint includes 60,000+ installed systems, spanning 57 countries and countless verticals.