Given the 24x7x365 nature of business today, uptime and availability of video surveillance systems play an important role in determining the success of many organizations. Yet downtime happens, and its reasons vary from sudden hardware failure to human error (see IT Hardware Failure: Costly And Common).
When a system goes down, it can deny access to mission-critical video, leading to loss of safety, productivity, and efficiency. It can also be financially detrimental in other ways due to regulatory or contractual penalties. The consequential costs of downtime could be far greater than it first appears, so it is beneficial for us to unpack its impact:
Hardware failure
Video surveillance systems need to work as close to 100% of the time as possible. Yet, these systems are increasingly reliant on software-based management, and, as a result, even a well-designed and maintained system can be vulnerable to downtime because of hardware failure. A simple server fault often can be the "weak link in the chain" since server drives have high failure rates due to functional dependency on moving parts.
Repair costs
Physical damage to video surveillance systems can be costly to repair or replace. It can also be hard to ascertain quickly which component of the system has malfunctioned. A common situation is a call from a customer expecting a camera to be at fault. The real fault, however, might lie in the switch or in other aspects of the VMS, or a combination of factors. This can make it time-consuming for your technicians to arrive at a solution. Even when the problem has been identified, that doesn't make it easier. The repair itself — finding drivers or completing bare-metal restores, for example — can be difficult. Transferring large amounts of data from hardware to hardware can also be a time-consuming obstacle.
Loss of data
Unlike some information-based applications, when important data in the form of video is lost, these files cannot be recreated to fill the gaps left by loss. Take, for example, casinos. If even one video feed goes down over a game table, the casino must shut down that table. If several cameras go down, they must close the entire floor (potentially losing thousands of dollars in revenue). In the event of a casino-wide shutdown, penalties from the Racing and Gaming Commission or other entities can reach the millions. As we will see next, casinos aren't the only businesses at risk.
Fines
Compliance demands formal standards and practices to protect video from loss, theft, corruption, and misuse. It involves state-mandated regulations that certain businesses must follow, regarding how their video data is organized, managed, and stored. Businesses across a number of industries — including banks and retailers — must adhere to compliance standards. Given this fact, it's surprising that many companies do not track downtime cost with any quantifiable metrics. Unfortunately, this means they won't know what an outage costs until it occurs –– and by then it's too late to prevent such an incident.
Reputation
In the current business environment, customers expect 100% uptime of their video surveillance systems. When they do breakdown, short delays are begrudgingly tolerated, and extended downtime is viewed as unacceptable. Pressure from customers with unrealistic recovery expectations can sometimes lead to finger-pointing. In such a scenario, a single downtime event can put your organization's reliability and brand reputation at risk. Unhappy customers can quickly translate into bad reviews or negative word-of-mouth. New business and referrals could also be at risk.
Below are some statistics to help us understand the magnitude of this problem.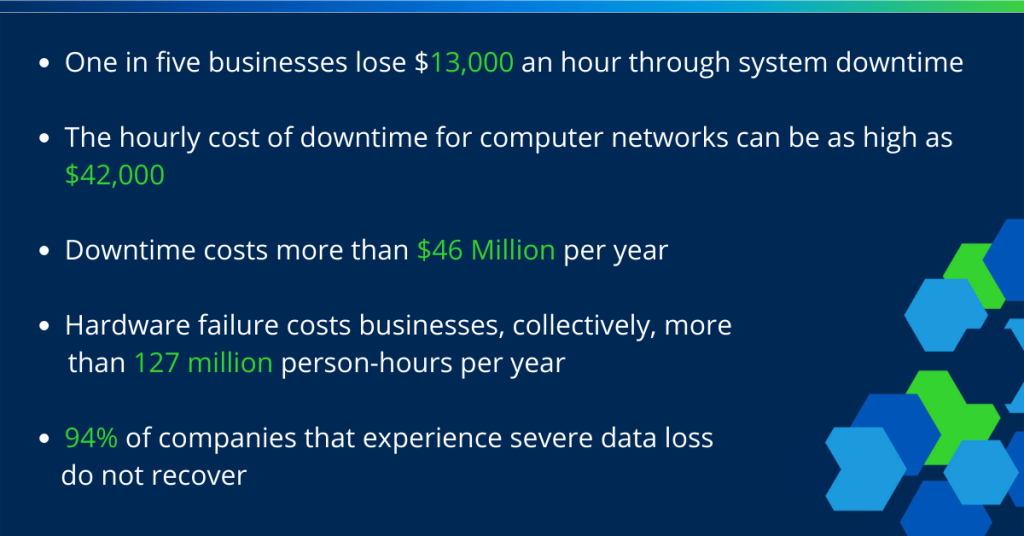 Mitigate Downtime's Impact
One thing all organizations are likely to agree on is that the cost of unplanned downtime — even if not quantified — is still substantial. Without real-time health monitoring, failures of a system component may be discovered only after a requested video sequence proves to be missing or not recorded. A frustrated end user may rethink doing business with an integrator whose otherwise sound relationship with a customer has been undermined.
BCD's exclusive Harmonize iDRAC integration enables users to proactively monitor servers and predict hardware failures seamlessly through a single-pane-of-glass inside top VMS platforms. This integration ultimately empowers system integrators and end users to get ahead of failures and proactively manage any number of incidents that may happen. With the possible impact of downtime on your bottom line and brand, investigating a proactive solution like Harmonize iDRAC that shares critical failure information in real-time to operators only makes sense.