The Harmonize Remote Monitoring and Management Plug-In
If a camera or network port fails in the middle of the night, it's possible that it will go unnoticed for a few hours – or even days, which can be detrimental to your business. 
BCD's exclusive RMM tool connects every aspect of your security environment into one central management hub so you can easily monitor and manage your video surveillance system, whether you are on or off-site. With custom telemetry and alerts sent straight to your phone when a threshold is met, users can proactively monitor and manage their video surveillance system to maximize uptime and provide peace of mind.
Every BCD system comes pre-loaded with 20 free licenses! To activate existing licenses or purchase additional licensing, please reach out below.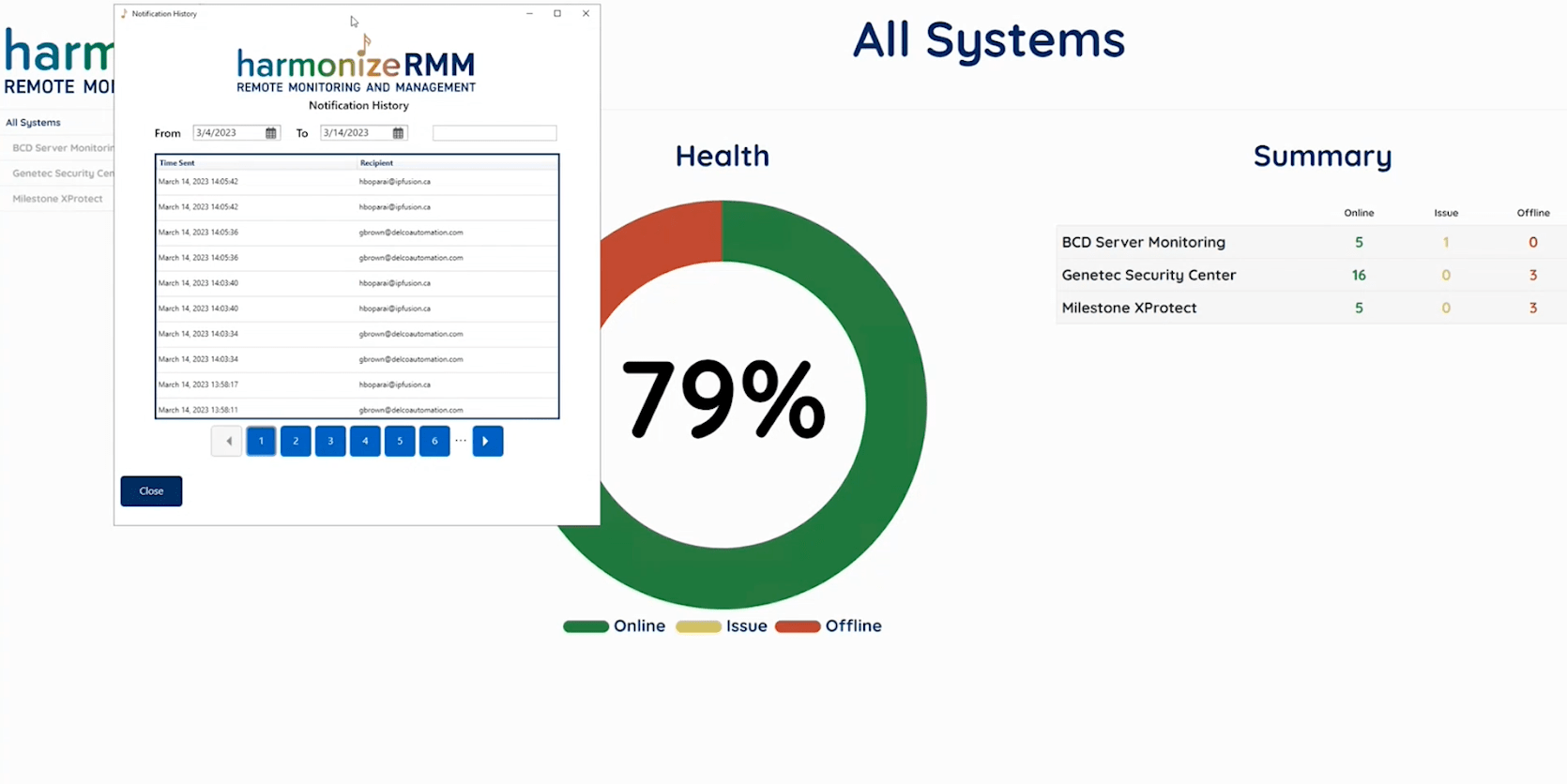 What Is the Harmonize RMM Plug-In?
Harmonize RMM is a plug-in designed to reduce risk and simplify system monitoring and management. BCD's exclusive RMM tool connects every aspect of your security environment into one central management hub. Whether you want to monitor your cameras, available storage on a hard drive, the temperature of your server, network connectivity and more, users can set the thresholds and monitor system activity in real-time.
With the ability to set custom telemetry thresholds, security professionals can prevent considerable downtime by getting notified directly via SMS or email if something goes wrong with their surveillance system so you can fix any issues in a matter of minutes – not hours or even days.
Harmonize RMM Plug-In Features
Similar to Harmonize iDRAC, Harmonize RMM offers a simplified single-pane-of-glass management experience. When you upgrade to Harmonize RMM, you gain access to more features than ever before in a VMS-agnostic environment.
Integration with existing iDRAC applications
Custom telemetry configurations
Proactive monitoring
Text message or email alerts
Simplified dashboard view
Real-time system health updates
Single-pane-of-glass monitoring
Ability to connect all hardware, including servers, workstations, cameras, and networking
Wide-reaching compatibility with industry-leading VMS providers, including Genetec, Avigilon, Milestone, Digifort, and more!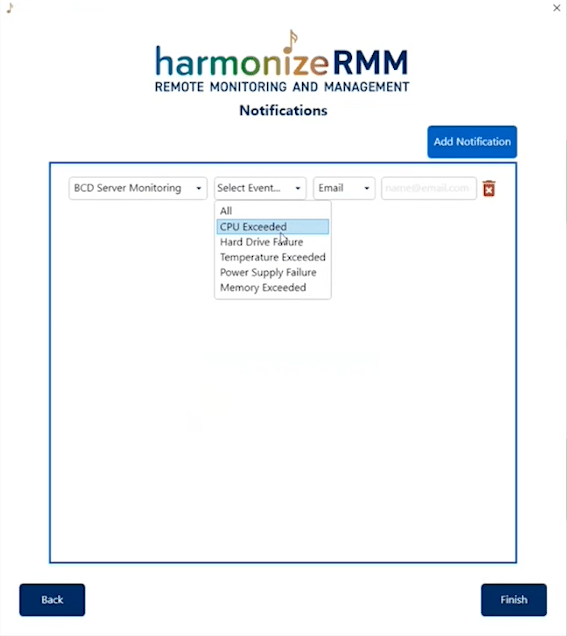 Upgrade Harmonize RMM For More Advanced Features
If you are working with a complex enterprise system and want to keep tabs on more than just your system appliances, you can upgrade your Harmonize RMM licensing! Users who upgrade their licensing can also integrate the everything from HVAC to door control into their systems as well. When you unlock the full potential of Harmonize RMM, you can integrate:
Video Surveillance
Access Control
HVAC
Alarm
Messaging
Fire Systems
Patient Telemetry
Lighting
Water & Sanitation
Door Control
Nurses Call Station
RTLS (Real Time Location Services)
Perimeter & Intrusion Detection
Intercom & Paging
Duress
Telemetry
Elevators
Medical Emergency
Network Switches
Servers
Power Distribution
Utility & HVAC Control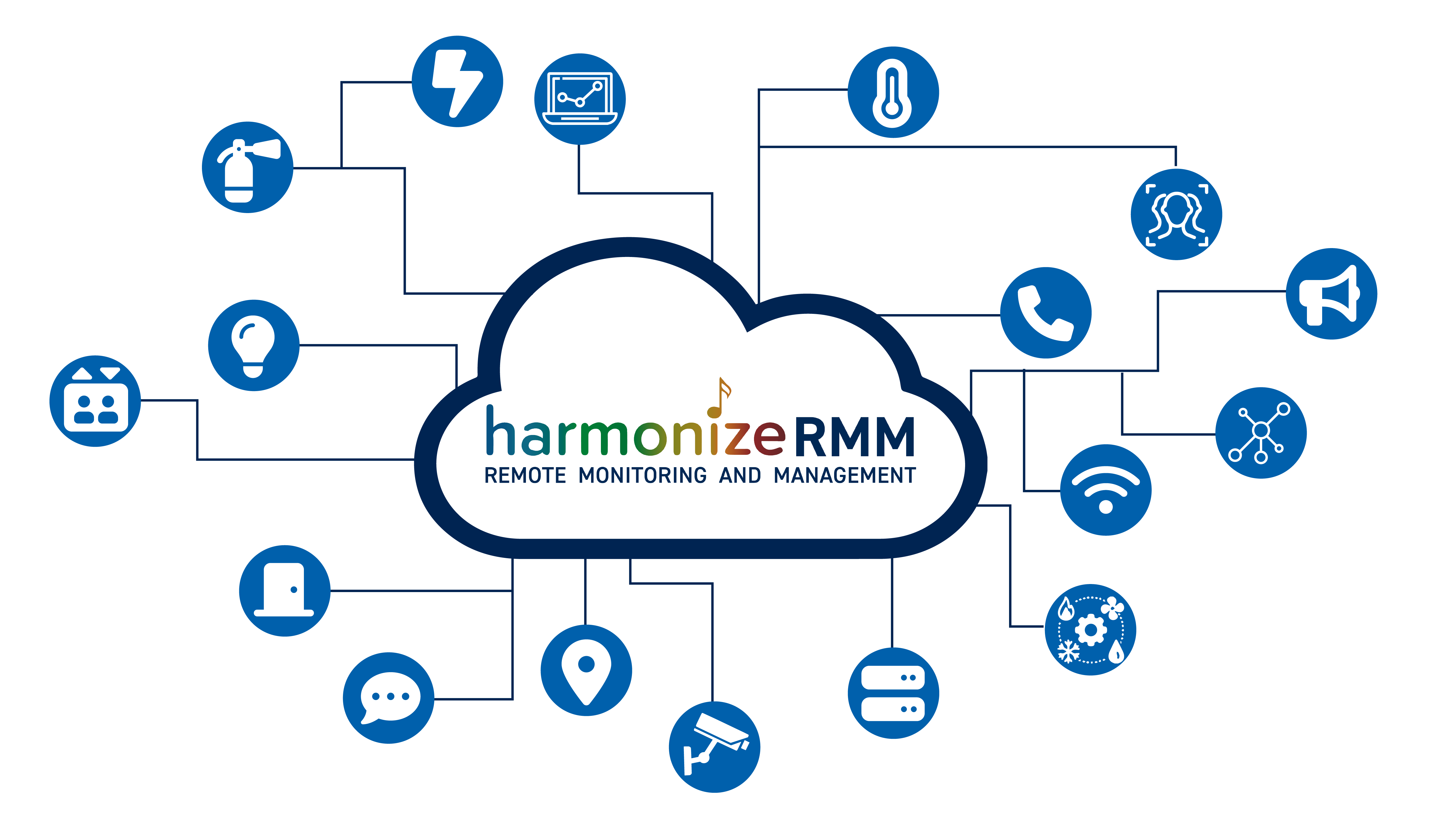 Activate the Harmonize RMM Plug-In on Your Existing BCD Appliance Today!
You can monitor and protect your clients' video surveillance solutions from BCD. Contact us for more information, or activate the Harmonize RMM plug-in today!