Bandwidth and Storage Calculator
When designing a security system, network bandwidth requirements and storage space for archiving video are two very important parameters. By using the BCDVideo Bandwidth and Storage Calculator, both parameters can be calculated automatically. This smart tool obtains accurate estimations of network bandwidth and storage, and perform many other handy functions to enhance surveillance system design. Get estimations of required network bandwidth to shape network video systems with any number of IP cameras and video servers. Calculate the required HDD storage space for video archive.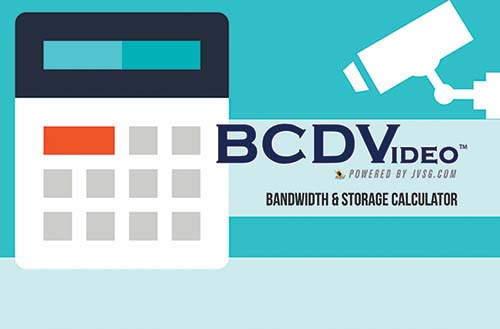 Bandwidth and Storage Calculator Instructions
In order to calculate both bandwidth and storage, simply specify following parameters in the calculator.
Resolution - Pixels
Compression - Video compression quality
Image Complexity - Frames from some CCTV cameras are more detailed and have a higher frame size
Motion % - Percentage of Pixel change when motion occurs. Used for MPEG4 and H.264 bandwidth estimation
FPS - Frames per second
Days - Retention period in units of 24 hours
Cameras - Number of cameras in the surveillance system
Recording % - Operational hours within a 24 hour period (continuous recording value is 100%)
After the parameters are entered into the Bandwidth and Storage Calculator, the following totals will appear in the bottom right of the window.
FPS (kilobytes) - Frame size based on resolution and compression (in some cases you can measure your real frame size and specify it in this field)
Disk Space (Gigabytes) - Disk storage space required to store video archive
Bandwidth (megabits per second) - How much network traffic is required for the cameras