Video Surveillance Security Workstations
It's essential that your clients' video surveillance environments are reliable and efficient, streamlining their security with top performance, storage and management capabilities. You can improve these organizations' everyday video monitoring with high-quality video surveillance delivery systems. These powerful workstations function as dependable storage, access control, and video analytics solutions for physical security applications.
You can find top-quality video monitoring stations to suit a wide array of clients at BCD. As your trusted video workstation supplier, we offer purpose-built video storage solutions geared toward your needs while delivering unbeatable white-glove service.
What Are Video Surveillance Workstations?
Surveillance security operator workstations are the delivery point of any video security system, functioning as a replacement for modern security recorders. These technologies have a similar structure to computer towers, containing cooling hardware for ongoing surveillance and hardware for housing virtual memory system (VMS) software.
Video security workstations are designed for efficient Internet Protocol (IP) video management. Because they don't run client software on the network video recorder (NVR), workstations free up security recorder resources to allow for better recording, management and remote viewing.
Our Video Surveillance Delivery Systems
BCD's video workstations are validated in our innovation center and built with the latest NVIDIA®️ GPUs and Intel®️ processors to promote exceptional computing and decoding performance. Our solutions are scalable, affordable and reliable, helping users meet the demands of their video surveillance projects. These units can be purpose-built to support video data storage, access control, and video analytics projects. Each of our workstations is also supported by our five-year, on-site, next-business-day (NBD) warranties.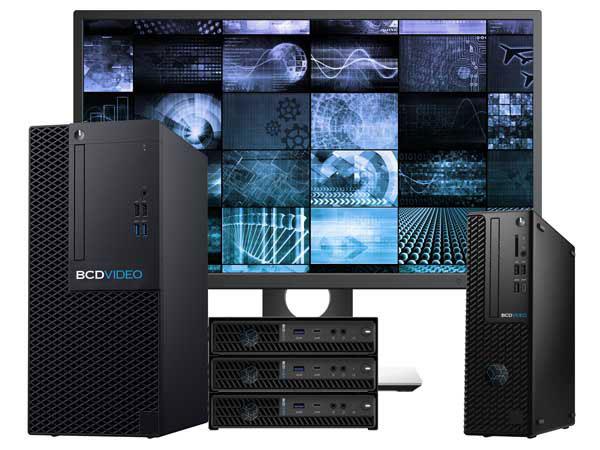 Key Features
NVIDIA® GPUs
Intel® Core™ Processors
Micro, Small Form, and Mini Tower Form Factors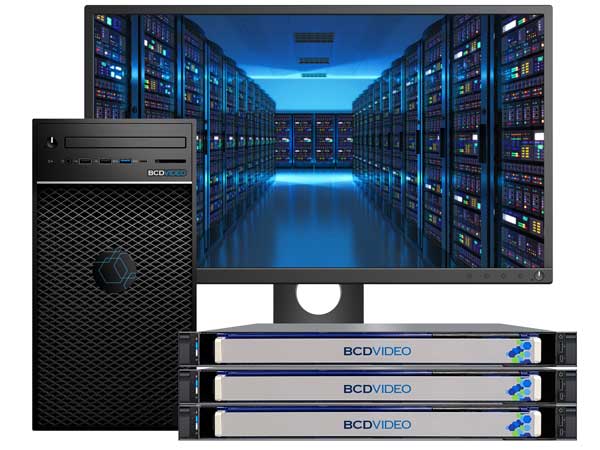 Key Features
Dual-Single Slot NVIDIA® GPU Support
Intel® Core™ Processors
Tower and 1U Rackmount Form Factors
High Wattage, High Efficiency PSUs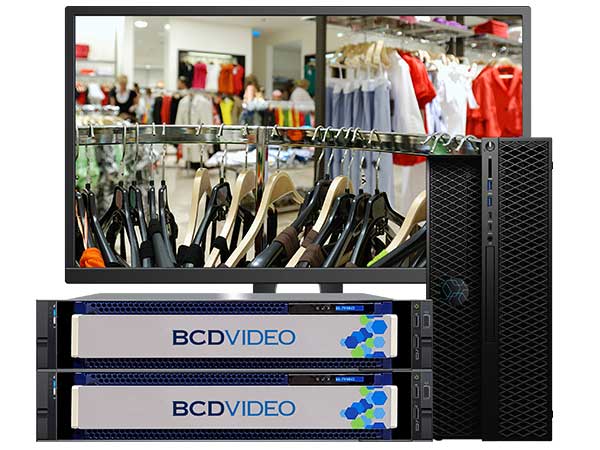 Key Features
Mutli-Slot NVIDIA® GPU Support
Intel® Core™ X-Series and Xeon® Processors
Tower and 2U Rackmount Form Factors
High Wattage, High Efficiency PSUs
Entry-Level Workstations
Our entry-level video workstations are equipped with NVIDIA® graphics processing units (GPUs) and Intel® Core™ processors to deliver high-quality viewing experiences. These systems allow users to store up to 18 terabytes (TB) of critical data.
Our entry-level options include micro video workstations, small form factor workstations and mini tower workstations.
Professional Workstations
When you invest in our professional video monitoring workstations, you'll experience dual NVIDIA® GPU support, allowing you to use two single-slot graphics cards at once. These solutions feature high-end Intel® Core™ processors and high wattage, high-efficiency power supply units (PSUs).
Our professional workstations are available in tower and 1 rack unit (U) form factors with up to 54 TB of raw storage.
Enterprise Workstations
You can take your storage a step up with our enterprise video workstations with up to 108 TB of raw storage. Our enterprise systems boast Intel® Core™ X-Series and Xeon® processors with multislot NVIDIA® GPU Support, allowing you to employ four single-slot graphics cards or two dual-slot graphics cards. These workstations are available in 2U and tower rackmount form factors with high-performance PSUs.
Purchase Solutions From a Trusted Video Surveillance Workstations Supplier Today
If you're looking for surveillance security operator workstations that set the standard for quality and performance, BCD has the solutions you need. It's our goal to help our customers reduce the complexities of video data infrastructure while maximizing their return on investment (ROI). We're proud to work with the world's top security integrators and distributors and maintain a global footprint of over 170,000 systems in 91 countries worldwide.
Fill out a form to make an inquiry, and one of our experts will be in touch with you shortly!