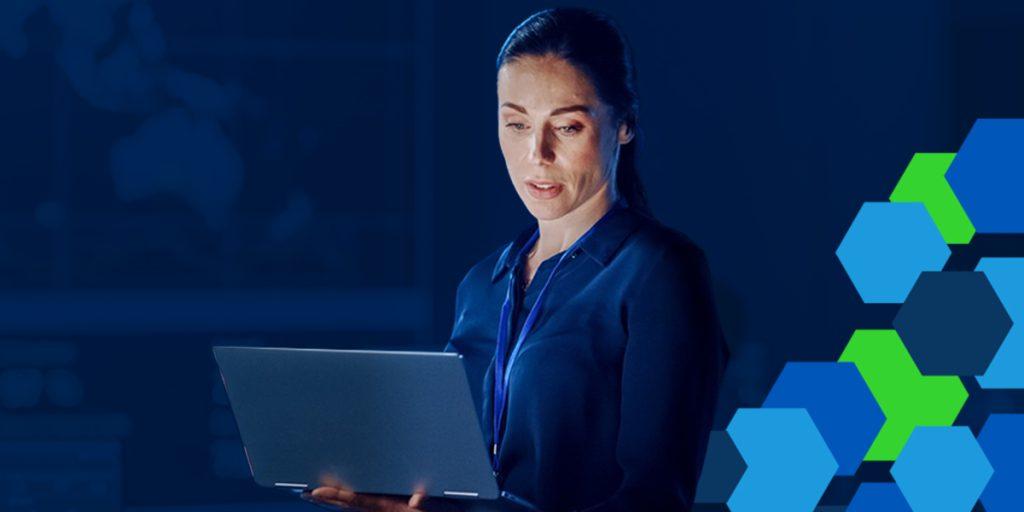 When considering a new IP video surveillance infrastructure solution, customers must understand their system's needs so integrators can cater their storage design to perform at its best within a given budget. For example, deploying 12 cameras requires a completely different infrastructure than a setup involving 120 cameras.
While there is no one-size-fits-all solution in the IP video market, this is always to the users' benefit. The ability to customize systems to your project's unique specifications allows you to use custom-built surveillance hardware, which minimizes deployment costs while maximizing performance.
The importance BCD places on quality, support and compatibility guarantees customers the best possible total cost of ownership while designing video data infrastructure to address any deployment's requirements, whatever the surveillance environment.
Below are five unique benefits BCD brings to the table, ensuring our cyber-hardened solutions deliver the right system for every user.
1. Condensed and Cost-Effective Surveillance Storage
When building surveillance storage that anticipates future growth, adding more cameras does not mean integrating additional servers. Traditional hyperconverged infrastructure deployments usually consist of a SAN or NAS appliance, an array of host servers and a virtualization hypervisor.
But BCD's virtualized infrastructure solutions support virtual systems that are deployable in under an hour. Because these systems all originate from the same vendor, they require minimal integration time — compared to the weeks it would take to fully deploy a traditional infrastructure, the minimal downtime to migrate your workloads to a virtualized infrastructure is seamless.
Redundant design makes these systems ideal for video archiving by improving data protection and management. With no single point of failure, these devices ensure video data is safe from disaster, even in major incidents.
Namely, BCD's virtual solutions excel in highly-available storage applications, such as casinos, sports stadiums, campuses and other high-camera-count operations. Because virtual systems scale up computing power and scale out storage as needed, customers can avoid unnecessarily paying for one to get the other.
2. The All-in-One Security Solution
Unlike standard digital video recorders, surveillance systems using network video recorders provide additional processing power for advanced applications like video analytics and IP cameras.
With up to 80 TB of raw storage space, BCD's compact All-in-One NVRs streamline video surveillance systems for entry-level and enterprise applications. The plug-and-play design simplifies installation, so you can easily integrate it into any surveillance project.
Some of the other advantages are as follows.
Remote access: BCD's NVR allows you to remotely monitor video feeds in real time, so you're always aware of what's happening.
Power over Ethernet switches: PoE switches streamline cable management and improve energy efficiency. BCD's All-in-One NVRs offer the option of either eight- or 24-port PoE+ to PoE switches to meet your application's needs.
Edge recording: With TPM 2.0 functionality and PoE management software, BCD's NVRs can access footage recorded at the edge of the system. This capability reduces latency, allowing for real-time monitoring remotely or from a central workstation.
BCD's entry-level appliances are as reliable as enterprise-level systems, with Intel® Core™ and Xeon®  processors for high throughput and rapid response speed.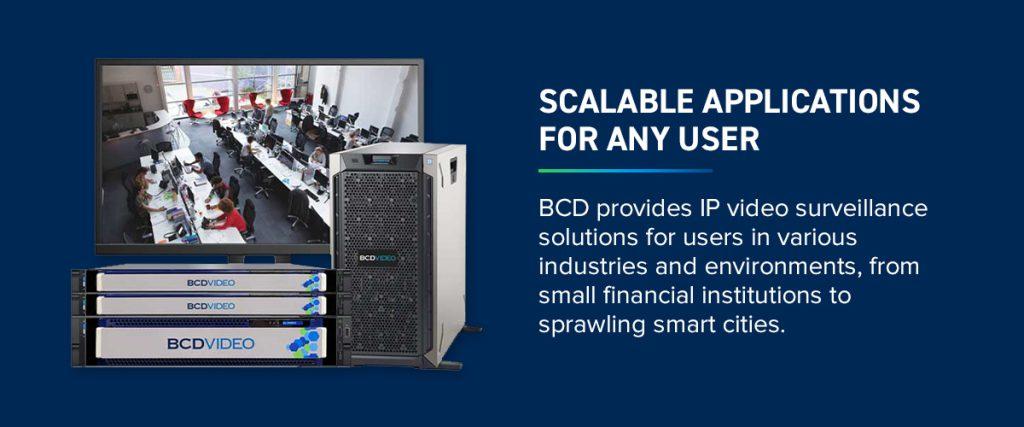 3. Scalable Applications for Any User
BCD provides IP video surveillance solutions for users in various industries and environments, from small financial institutions to sprawling smart cities.
BCD's entry-level and professional workstations are ideal for small to medium-sized businesses due to their easy installation framework and programming. These stations condense multiple feeds onto one hybrid cloud network, reducing hardware requirements and providing significant cost savings.
The Milestone XProtect® Rapid REVIEW appliance line consists of four high-performance analytics servers equipped with XProtect® Rapid REVIEW software for fast video review, search and analysis. These appliances can pair with NVIDIA® graphics processing units for optimized analytics and video processing. With the ability to analyze hours of footage in a few minutes, you can save critical time during investigations and better anticipate security incidents.
As your security needs increase, your surveillance solution can expand in response. BCD's purpose-built video recording servers can support anywhere from four to 4,000+ cameras on the same network, so businesses can add cameras as needed.
4. Extensive Enterprise Solutions
For deployments with high camera counts, retention times and frame rates, and those requiring long-term storage, BCD builds optimized enterprise solutions to meet these needs and grow with them. Employing servers with up to 520TB of storage, redundant power sources to prevent any interruption in operation and RAID 5/6 support, these systems are optimal for any volume of data input.
Servers with high bay count and expansive networking also allow operators to scale their systems, minimize their hardware footprint and protect their data with redundancy, which is crucial for customers who can't afford downtime.
5. Easy Management On-Site and Off-Site
Lastly, resource limitations are among the most significant obstacles for integrators looking to build network infrastructure for enterprise customers. To meet this need, BCD offers various solutions that make it easy to access experts and tailor solutions without an on-site network engineer.
For example, BCD's Provisioning Assistant Application can simplify your security infrastructure delivery by automating Layer 2 and Layer 3 high-availability network deployments. This capability helps integrators free up resources to ensure a successful deployment the first time. It can also help bring systems back online quickly, minimizing downtime and providing users with significant cost savings.
More than anything else, BCD invests in delivering localized support to address customer needs as quickly as possible. Equipping you to efficiently manage your IP security systems on-site enables fast problem-solving and maximizes uptime.
For example, the Harmonize Remote Monitoring and Management plug-in condenses all system components into one single-pane-of-glass management experience. This centralized dashboard allows you to monitor your system in real time, whether you are on- or off-site. And if any part of your system — like cameras, servers, networking, workstations, HVAC or access control — goes down, you'll receive an SMS or email notification so you can resolve the issue within a few minutes.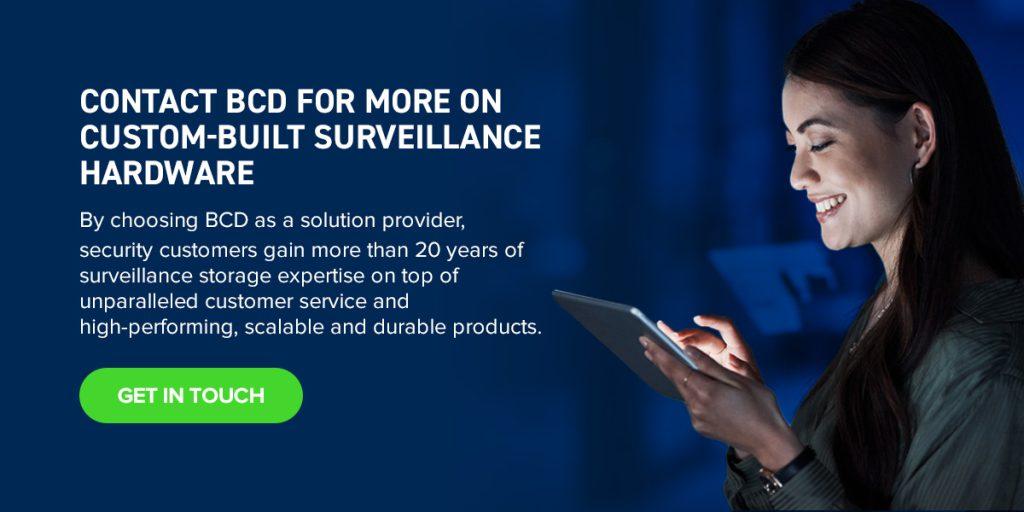 Contact BCD for More on Custom-Built Surveillance Hardware
By choosing BCD as a solution provider, security customers gain more than 20 years of surveillance storage expertise on top of unparalleled customer service and high-performing, scalable and cyber-hardened products.
When it comes to quality, support and reliability, BCD stands above the rest. Talk to your security integrator about using BCD surveillance solutions for your application, or contact us online to learn more.