Urban populations are expanding at unprecedented rates — these days, 56% of the world's population lives in cities. As technology advances, the ways public officials and first responders predict, respond to and resolve security concerns will also evolve. Below, we'll discuss how smart cities are secured, common security objectives and challenges smart cities face with video surveillance.
What Are Smart Cities?
A smart city is a technologically advanced urban area that uses sophisticated electronic tools and applications to collect and analyze data. After that data gets collected, these cities use it to evaluate and improve functions like asset management and operational efficiency. Smart cities rely on the Internet of Things (IoT), a network of tools and software applications that can integrate into a technological ecosystem.
Smart cities like London, Dubai, New York, Amsterdam and many others adopt these technologies for various applications. Smart features are most relevant for security and public safety. The expansion of video surveillance through security cameras and traffic cameras has been especially groundbreaking.
Security Concerns of Smart Cities
Security measures in smart cities help ensure citizens and visitors feel safe, and officials can implement specific procedures to prevent and respond to potential threats. Learn more about the special safety concerns and objectives smart cities face and how video surveillance is a key player in smart city technology.
Some of the biggest security challenges of smart cities include:
Crime
Though video surveillance and monitoring can't deter all crime, it does reduce crime rates. According to a study from the Municipal Technical Advisory Service, closed-circuit television, or CCTV, is an effective deterrent for crime when paired with other crime deterrents, like better lighting and guards.
Integrating technologies is especially vital for reducing and responding to crime in smart cities. For example, smart streetlights that have real-time monitoring functionalities mean public officials can get notifications when there are any outages that crews need to address. Fixing these lights quickly maintains a smart city's comprehensive security solution.
Traffic
In major metropolitan areas, city officials also need to confront concerns relating to traffic flow. Car ownership is especially prevalent in the United States, with three-quarters of Americans owning cars in 2021. With a large volume of citizens commuting to work and school every day, cities can control traffic patterns to reduce accidents and congestion.
With video surveillance, smart cities can monitor streets and highways and identify spots that interrupt traffic flow and track those patterns over time to develop more cohesive responses. Cameras can also help identify accidents so first responders can act quickly.
Public Safety Threats
While public safety threats usually aren't on the minds of everyday citizens, it's still important for officials to organize efforts to prevent and respond to these threats. Using smart video surveillance technology, officials can monitor and protect areas that may be targeted by attackers, including airports, city centers and shopping malls.
Large Events
Smart monitoring ensures public safety during large events, creating a more welcoming and safe environment for all participants and visitors. When cities host large events, including international sporting events like the World Cup or the Olympics, city officials need advanced security measures to monitor activity and assist in crowd control.
With large volumes of people in one area, there's an increased risk of accidents and security concerns. Monitoring crowd numbers can ensure cities have sufficient security measures where and when it's needed most.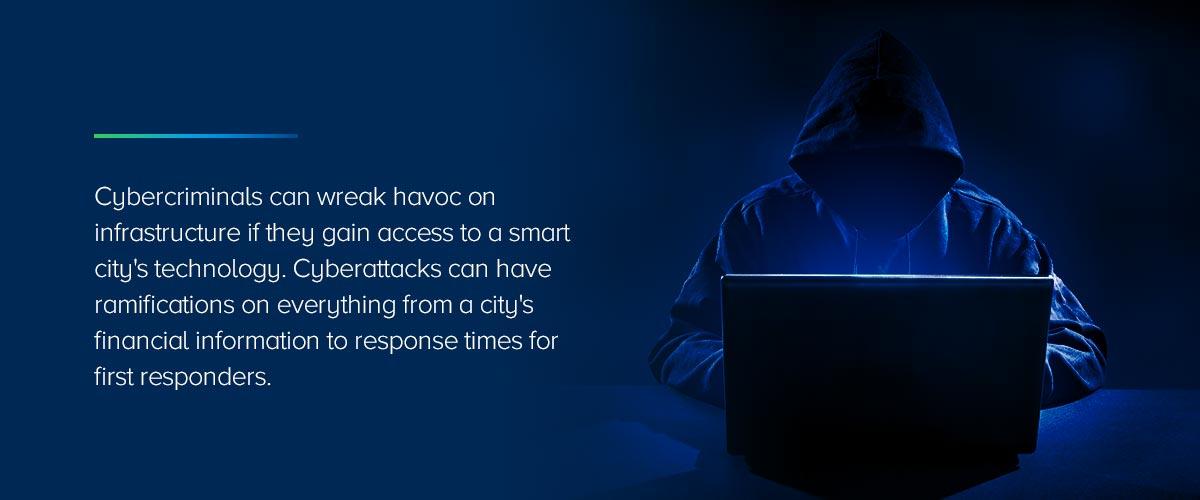 Advanced Cyberattacks
While the potential of the IoT for smart city security is enormous, it also opens the way for attacks that impact a city's basic infrastructure. Cybercriminals can wreak havoc on infrastructure if they gain access to a smart city's technology. Cyberattacks can have ramifications on everything from a city's financial information to response times for first responders.
The threat of cyberattacks can be mitigated successfully with proper cybersecurity measures. Solutions like two-factor authentication, consistent software updates and proper cybersecurity training for city officials can go a long way in reducing the threat of these attacks. 
Infectious Disease Control
There are many ways smart cities can use the IoT to manage infectious disease outbreaks. During the coronavirus pandemic, cities like London and New York would send health notifications to inhabitants' phones, keeping them informed about the rapidly changing scenario and any guidance from public health officials.
Using video surveillance specifically, cities can monitor traffic patterns to determine whether citizens are following shelter-in-place or lockdown orders. Cities can compare traffic to pre-lockdown conditions and use that data to see if their orders are successful.
What Are the Security Objectives for Smart Cities?
Smart cities have three main security objectives:
Public safety: Public officials in charge of a smart city's technology integrations need to keep public safety front of mind when integrating solutions like video surveillance and other smart features. When used efficiently, video surveillance has huge potential to deter and help prevent crime and improve emergency response times.
Communication between departments: All cities rely on a certain level of communication between departments for everything from community events to emergency response scenarios. Having technology that facilitates fast, efficient communication between city departments is an essential objective for smart cities. So it might not be enough just to have video surveillance — cities also need data storage solutions so departments can view, analyze and exchange relevant data.
Secure technology integrations: Keeping the IoT secure in smart cities is another top priority. Officials should ensure the city's data is protected with superior authentication methods.
Video Security Protection for Smart Cities From BCD
Video surveillance cameras are becoming instrumental in how smart cities face challenges from crime and other security concerns. With the massive influx of data these cameras bring, smart cities also have to manage their data infrastructure so they can support the high demands on the system. 
Managing its data is one of the most important facets of a smart city. Losing video data complicates the work of smart city officials, as it can prevent the delivery of critical intelligence and hinders response times. With a strategically designed storage architecture, smart cities can prevent issues with video surveillance like dropped frames and latency. The BCD Video Accelerator is a storage accelerator perfect for smart city applications, allowing for scalable storage infrastructure. 
Smart cities can also benefit from artificial intelligence network video recorders (NVRs) that can process metadata from video surveillance cameras. On-site NVRs with SAN storage arrays from BCD help smart cities assess and respond to immediate alerts. They can notify officials about security concerns like traffic collisions, intruders and other suspicious activity. With this advanced notice, public safety officials can form a faster, more comprehensive response to these potential threats.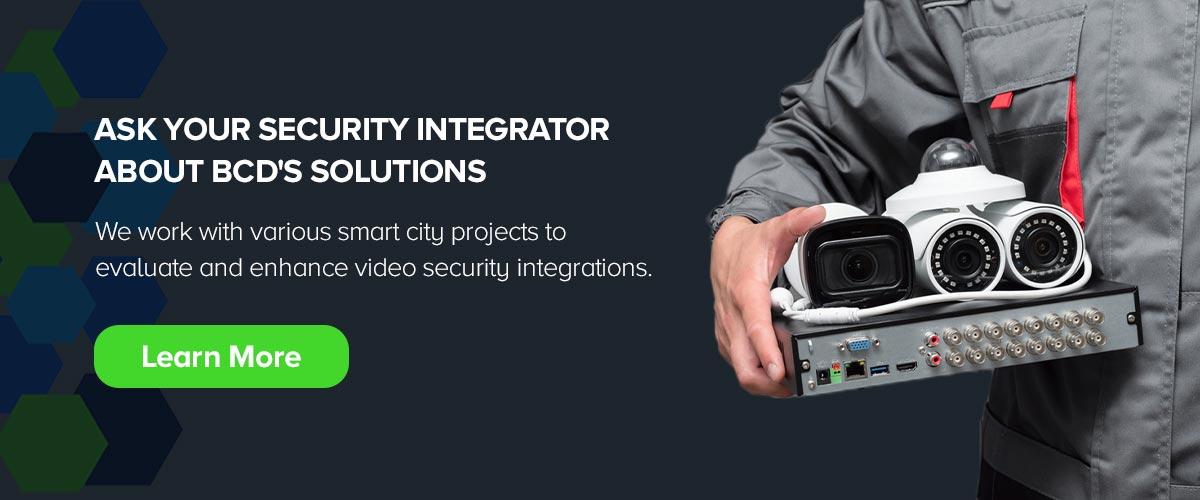 Ask Your Security Integrator About BCD's Solutions
BCD is a leader in purpose-built IP video surveillance storage solutions, and as a trusted advisor, our mission is to increase return on investment and reduce the complexities associated with video data infrastructure to enhance public safety. We work with various smart city projects to evaluate and enhance video security integrations. 
To speak with the experts on IP video security, networking and storage, contact our team today, then speak to your security integrator team about BCD's security solutions.