With modern threats becoming more common and unpredictable, businesses must constantly reevaluate their protection tactics. Whether it's a data center, hospital or retail store, any organization is vulnerable to intrusion and requires advanced security levels. Fortunately, you can take many measures to secure your property, commodities and staff, especially with technological advancements on the rise.
While they might not look great on a report card, straight Ds across the board is the goal when it comes to business security. The approach consists of four key layers — deter, detect, delay and defend. Each component works together and complements the others, and the subsequent layer springs into action when the prior one is infiltrated. The four Ds of security helps you understand each component that comes into play when defending your property from a security breach.
What Are the 4 Levels of Security?
Understanding the four Ds of security is an excellent starting point for developing and installing a robust, innovative security solution for your business and choosing the right security partner to help you implement this technology. Below are the four physical security levels and the important roles they contribute.
Level 1: Deter
The first step to securing your property is implementing measures to prevent break-ins in the first place. The first level of security, Deter, involves any practice used to discourage threats and attacks from happening.  Deterrents can be physical, such as barriers and gates, or more psychological, like video surveillance. However, both types are designed to protect your facility. If you don't currently have technology in place to curb internal and external intruders, it's important to change that.
Some examples of security deterrents include:
Antivirus software
Account lockouts
Physical key control system
Electronic key control system
Encryption
Firewalls
Risk analysis
Job rotation
Some systems can record when staff members take and return keys for a real-time audit trail. By equipping your site with advanced deterrents, you can help prevent criminals from accessing valuable assets or high-security rooms. If your facility or system gains a reputation for being difficult to penetrate, that's a great start.
Level 2: Detect
In case your deterrence measures are infiltrated, it's essential to have a security solution that quickly alerts you when an intrusion has occurred.
Traditional burglar alarms detect the entry point to a building, room or safe. If an intruder makes it through the entry point, detection shifts to closed-circuit television or light beam security systems. In events where authorized personnel are present, they can detect a trespasser through the lack of a radio-frequency identification tag or by using gait and facial recognition technology.
If your business only uses manual key control — like a lockbox or pegboard — you can't identify the precise moment an unauthorized user requested a key, or when a key has exceeded its time limit. Incorporating an electronic key control system allows you to implement sound alarm triggers. It can also send an email or text message to the system administrator.
Sound alarm triggers might include:
Unauthorized personnel attempting to access the system.
A system drawer being left open for too long.
Overdue or expired keys.
By detecting and alerting you of suspicious activity in your facility, your security network can help you catch and resolve attempted security breaches.
Level 3: Delay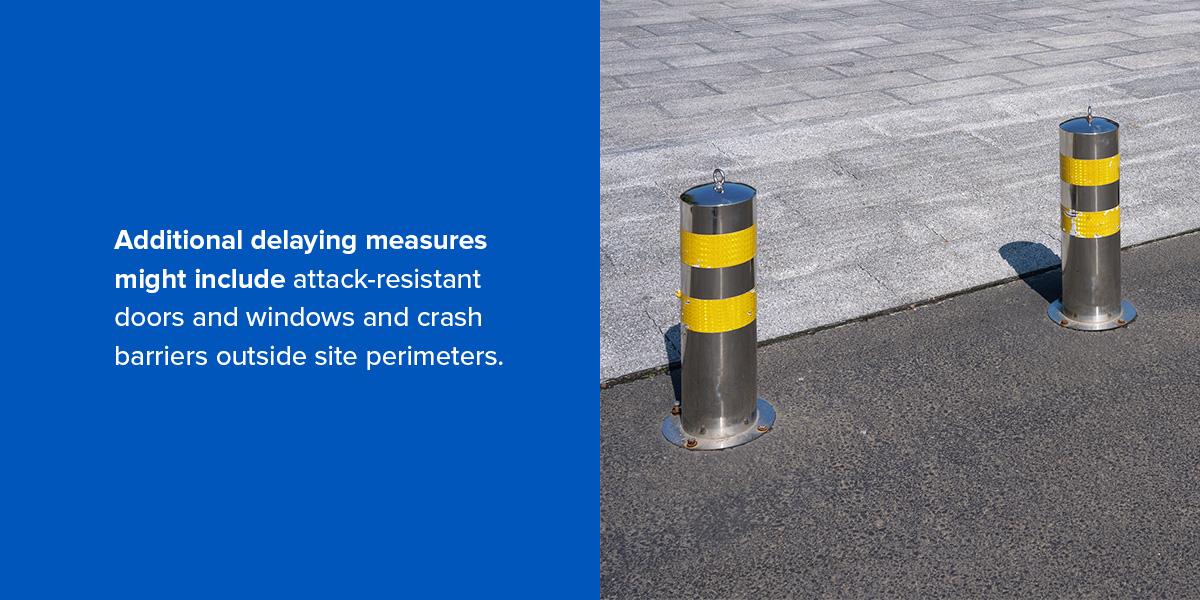 The next step is making the attack as difficult as possible. This level gives staff members, assistive services and civilians a window to react and respond to the situation and evacuate the premises if necessary. Entrance control can provide a safe escape route or an entry barrier to block the violator.
Security partitions and doors are critical, offering obstacles for criminals to penetrate. Additional delaying measures might include attack-resistant doors and windows and crash barriers outside site perimeters.
Time is of the essence — a matter of minutes can make all the difference in confronting a security breach. If you're well-acquainted with your local law enforcement or security guard provider, consider asking them about response times to an emergency call so you can attempt to provide an adequate delay period.
Develop a solid security plan around these timelines, incorporating sufficient delay mechanisms into your structure. The goal is to ensure first responders arrive before the infiltrators can harm your business or individuals in the area.
Level 4: Defend
What is level four security and what does it entail? You need to exercise crucial measures to protect your business's valuable assets. Defensive security is commonly described as the "security onion," as the protective layers circle inward from the building's perimeter.
Perhaps the most robust defensive systems — vaults and safes — are the foundation of the security onion. There are many options to consider, from fire- and explosive-resistant safes to diamond core drill-proof vaults. Depending on whether the asset is an object or confidential information, your defensive perimeter can be physical or digital.
How BCD Validates Security Solutions
These four security levels can serve as a foundation for your business's protection, helping you develop and install a system that deters, detects, delays and defends against intruders. At BCD, we can help keep your staff and facility safe by working with you to integrate a video surveillance system combining the fundamentals of the four Ds.
Through our strategic partnerships, we help provide our clients with purpose-driven security solutions tailored to their unique video surveillance needs.
1. Access Control Partners
Access control is crucial for your business, as it reduces access to vital data and information processing systems. When properly integrated, it mitigates the risk of unauthorized individuals accessing information and an unwanted data breach.
We work with our access control partners to protect valuable information and data for our clients and their organizations. Below are some of our certified access control partners:
2. VMS Partners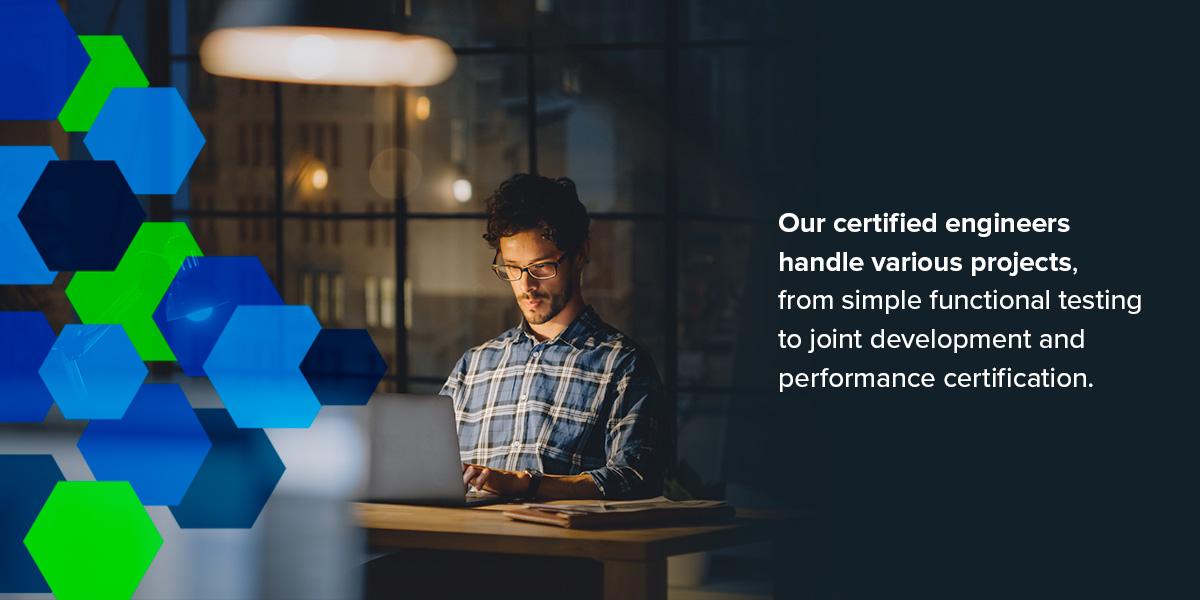 Our trusted video appliances are carefully tested and validated with the highest quality Video Management Systems (VMS). Our certified engineers handle various projects, from simple functional testing to joint development and performance certification. We strive to ensure software and hardware are fully functional and reliable for every project.
These affordable, innovative solutions use specialized technology like Harmonize Bridge and Harmonize iDRAC for health monitoring and disaster recovery. Users can store video data on their choice of a public or private cloud platform, on-premises or both.
Harmonize Remote Monitoring and Management (RMM) is also used, which is designed to manage video surveillance systems in real time, offering custom telemetry configurations and proactive monitoring.
We strive to improve business security for our clients through several partnerships with VMS specialists, including:
3. Video Analytics Partners
Video analytics is critical for improving your business's security. Video analytics involves tracking and locating different elements within video footage, alerting security personnel of potential intrusions. Security members can also review previous footage to gather key insights and strengthen their security measures.
BCD helps provide security solutions by partnering with industry leaders in video analytics, such as:
4. Security Integrators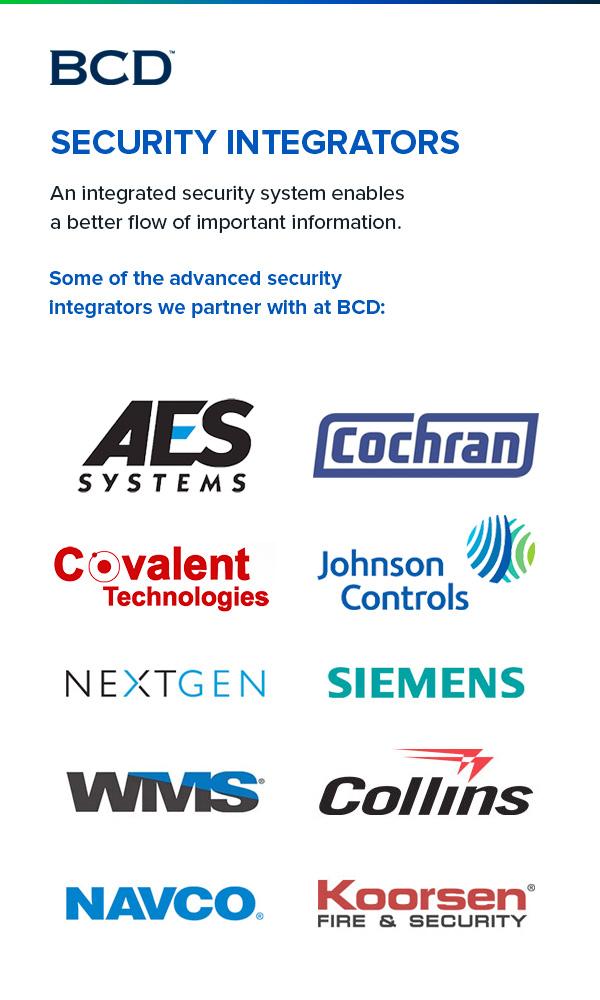 An integrated security system enables a better flow of important information. You can better facilitate and expedite this data across all platforms. When an issue such as a glass break is detected in one area, you can respond instantly with access control measures.
If you need to report an activity or review an incident, you don't have to shift from a burglar alarm system to a video surveillance camera to the access control system. It's all in one convenient interface, simplifying your company's security management.
Below are some of the advanced security integrators we partner with at BCD:
Contact BCD for Video Surveillance Support
Securing your business with cutting-edge technology and equipment is critical for your facility, assets and team members alike. At BCD, we partner with the leading global distributors, technology partners and integrators to implement the finest security solutions certified by the top VMS and digital camera manufacturers.
With a global footprint of over 190,000 systems recording nearly 4 million cameras in 91 countries, you can count on us to deliver the following services and benefits for your facility:
Designing reliable, state-of-the-art solutions.
Providing innovative technology for organizations to optimize their investment in our security solutions.
Supporting a nurturing, cohesive work environment where employees feel safe and productive.
Producing tested, proven solutions tailored to any business size or setting.
Maximizing ROI.
Minimizing the complexities that come with video data infrastructure.
Let us help you upgrade your business's security solutions. Contact us to learn more about our video surveillance support services or request a quote!