According to a recent Seagate storage and data whitepaper, IP cameras will produce 175 zettabytes of data by 2025.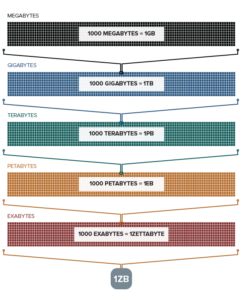 Today we retain more data than ever, and with this increase in data we collect, there are associated requirements to analyze this data for both forensic and business purposes. (e.g.
PricewaterhouseCoopers estimated
the value of commercialized data in the financial sector alone at $300 billion in 2018.)
Cameras have played a significant role in this increase in data. Camera sensors have grown in resolution and capability, which have added to the burden on storage and networks.
With this increase in data, we have seen a demand for higher retention times and larger storage systems. Increased demand has not always allowed for a better understanding of the requirements for storing this video, nor the overall effect on a network.
All these things come to a head in the data center or a facility's security operations center. Power, space, cooling, cable management, and other environmental factors must be considered. Systems also must be evaluated, as with growth, many organizations find themselves with multiple systems—video management, access control, medical, building management—running across servers that range in age, capability, and manufacturer.
This is where hybrid hyperconvergence comes into play. Please note that hHCI is slightly different than hyperconvergence. If you'd like to learn more about the differences, view our other post here.
5 ways to reduce TCO with an hHCI solution
The use of a hybrid hyperconverged system almost always means an overall reduction in the yearly total cost of ownership (TCO) of the system when compared to replacing the system.
Reduce the number of appliances: Fewer servers and storage systems are needed. hHCI also eliminates the need to manage multiple operating system environments.
Less power and cooling: Fewer servers and storage arrays mean less power and a reduction in cooling requirements.
Less maintenance: Consolidation of servers means less maintenance since all servers are the same and are all running under the same principal operating system.
Reduce truck rolls: A reduction in maintenance means fewer man-hours spent reacting to system failures and truck rolls.
Less downtime: Additionally, the use of hHCI platforms means that the power of virtualization can be used to predict component failures, which creates less overall downtime and further protects against any level of system failure.
hHCI provides system redundancy across the servers within, as any single server can suffer a catastrophic failure, yet the overall system can and will continue to function. Switching is also redundant, and data is protected using a combination of RAID 6, predictive disk failure management, and virtualization so that disk failure does not correspond to data loss. These provide high availability and system uptime while protecting critical OS and data.
BCD's Hybrid HCI solution REVOLV,  was designed to provide a true hHCI platform that offers cost savings with the 5-year total cost of ownership reductions, specific ease of use within a security system setting, system commonality with IT systems likely in current use such as VMWare, high availability and overall data and system redundancy.
For more information about REVOLV, email revolv@bcdinc.com today!