Casinos are arguably the most surveilled facilities in the world, next to retail and banks. But unlike banks, casinos are not FDIC insured, and their camera technology and layouts change more rapidly.
Indeed, the financial consequences of trying to handle powerful digital cameras and complex floor plans with inadequate video management systems (VMS) are steep. Downtime and theft immediately impact revenue, cutting into the daily 1.9 million brought in by the average casino.* A lapse in video retention can also result in fines from the Racing and Gaming Commission or other entities.
How do casinos use video security networks in this age of rapidly advancing technology? Here are three solutions that can help casino security managers and integrators avoid costly surprises as their operation grows.
Network Switches
Network switching in casinos is arguably more important than the cameras themselves. This is one of the areas where matrix switching and analog video are still utilized. The signal processing through a piece of coax is instantaneous, even when transferring massive quantities of video data.
With many casinos installing hundreds or even thousands of cameras on the casino floor alone, you need a system that can handle many different devices at once. For example, if you add a new restaurant to your site, you'll need to expand your network to loop in the new cameras in that area. Managed power over ethernet (PoE) network switches include features for quickly scaling your network, so you can keep hardware costs low.
In an IP environment, there is always some sort of delay — think milliseconds rather than minutes. But the lower that latency is, the better the eye in the sky can view and process video. Quality of service (QoS) features help prioritize network traffic so your operators can have the best possible user experience for real-time video applications.
That's why BCD designs casino environments with cutting-edge switches — a near-zero latency solution that's ideal for video applications in fast-paced settings. If you're creating a security system for your casino, a top-tier network switch is a good place to begin.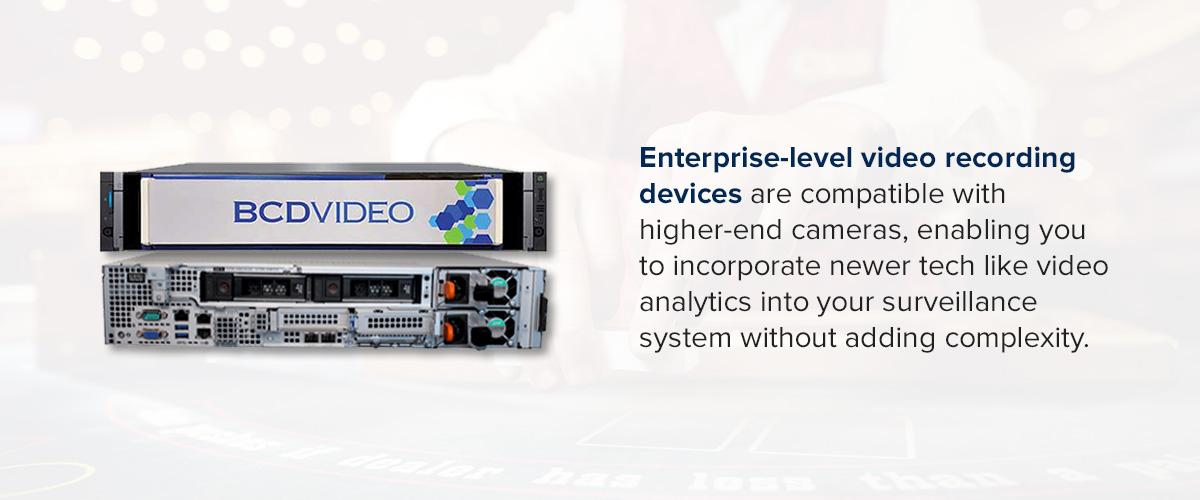 Video Recording Appliances
Many casinos still rely on aging DVR or VCR technology to record footage, which can interfere with your security personnel's ability to quickly catch and evaluate incidents. 
Keeping outdated recording technology costs casinos more than the hardware is worth. Some of those costs include:
Investigative delays: Security operators need to manually search through non-unified DVR or VCR systems and review incidents to find the truth of an event. The unnecessary complexity can lead to costly investigative bottlenecks that could easily be prevented using integrated solutions.
Storage and facility costs: Due to industry regulations and standards, many casinos have had to expand coverage in certain areas, leading them to purchase more storage hardware. This hardware takes up valuable resources and space, driving up overhead costs.
Advanced video recording appliances are vital components in large-scale deployments like casinos. These devices record and manage critical data from your surveillance system, allowing operators to easily collect and access footage whenever necessary. Plus, they eliminate the need for additional hardware, saving floor space and reducing overhead costs.
Most recorders today are open architecture and capable of running almost any VMS. Understanding machine performance and how video flows through the machine — and is ultimately written to disk — is key in any environment but especially casinos. 
Enterprise-level video recording devices are compatible with higher-end cameras, enabling you to incorporate newer tech like video analytics into your surveillance system without adding complexity. This enables your security teams to investigate and respond to incidents more efficiently, such as:
Identifying blacklisted customers
Catching employee theft 
Detecting customers using stolen or lost member cards
BCD's trusted and high-performing video recording servers can support as many as 4,000 security cameras, powering bandwidth-heavy software applications like video file uploads and downloads.
Storage Area Network (SAN)
In keeping with gaming, tribal or other local, state, and federal requirements, casinos often require longer video retention of space-hogging, data-heavy files. In some cases, casinos can be required to hang on to video data for six months or even up to a year. That's where SAN devices come in. These large data collection systems allow for almost unlimited retention of video. BCD's Deepstor 584S-SAN storage provides up to 1.68PB of raw storage in a single unit, with up to 3 5U expansion units providing a maximum of 6.72PB of raw storage. With ADAPT distributed RAID, these systems offer five nine's of availability, maximizing your uptime and saving your casino hundreds of thousands of dollars in losses and potential legal fees that can be caused by system downtime. Compatible with archival cloud storage and programmed with BCD's exclusive and easy-to-use quick-start configuration tool, long-term data retention has never been easier – or more cost-effective.
A Final Tip for Casino Security Surveillance Systems
When considering new solutions, one situation that's often overlooked is how software and hardware work together for immediate video playback. You must make sure that software is "tuned" with the hardware. In this way, immediate playback of a dice roll or cards at a blackjack table are never missed — and you never want to see a playback go into buffering.
Essentially, your hardware should integrate well with your software to create a seamless, all-in-one solution that empowers operators to be proactive in managing security incidents.
For example, cloud-based software integrations allow you to transfer recordings to the cloud, which helps reduce IT costs and preserve your footage without taking up floor space. Because your footage is stored on remote servers, operators and investigators can access your recordings from anywhere, streamlining investigations and helping you maintain compliance with storage requirements.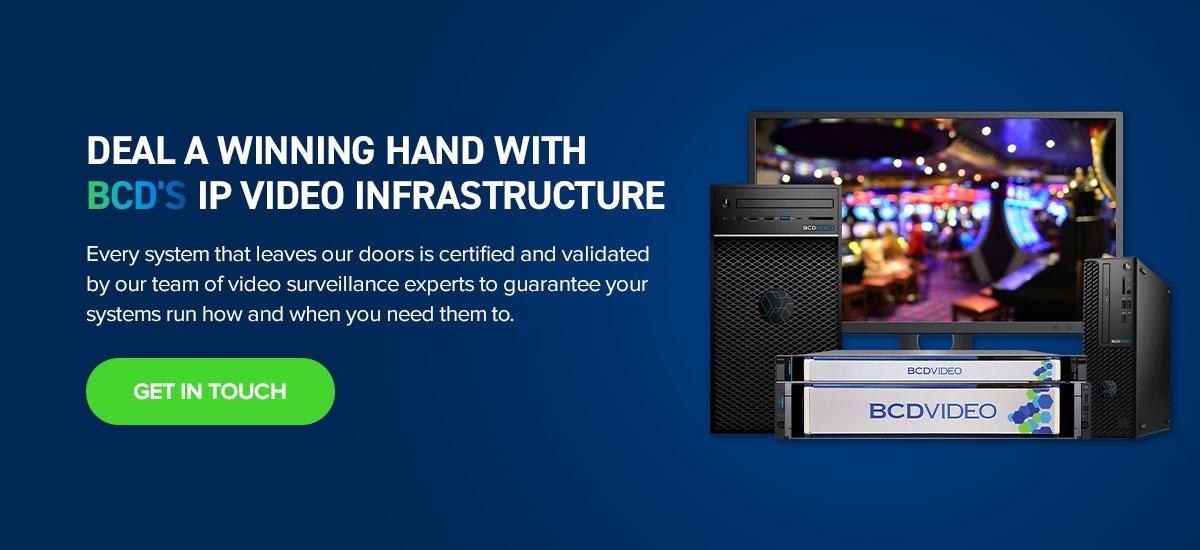 Deal a Winning Hand With BCD's IP Video Infrastructure
BCD has more than two decades of experience in all aspects of casino security. Every system that leaves our doors is certified and validated by our team of video surveillance experts to guarantee your systems run how and when you need them to. As pioneers in the evolving technology of IP-based video surveillance, we understand that it produces a unique kind of data, with distinct challenges in capturing, transporting, reading, writing and analyzing.
Ask your security integrator to request a consultation for more information about how BCD's security solutions for casinos can help keep your clients and their businesses protected. 
* Source: PaySpace Magazine