Dublin Zoo Offspring Safe with Milestone 'EggsProtect'
Contrary to popular belief, ostriches do not bury their heads in the sand when threatened. They 'hide' by lying flat on the ground … or run away! But when they are asleep at night, it's another story. The zookeepers at Dublin Zoo were very concerned about overnight attacks by wild animals on their flamingos and stealing ostrich eggs.
The zoo was keen to explore the use of video to help them ensure animal welfare. A comprehensive, centralized video management system was implemented to manage the growing number of IP cameras deployed to serve a range of needs at Dublin Zoo, including perimeter security and animal behavior studies.
Milestone XProtect, together with Axis Infrared cameras installed in our African Savannah habitat, picked up incidents of ostrich eggs being stolen by wild badgers. The large eggs were being rolled under a gate, up a hill and then smashed on a rock, whereupon the badgers were getting a tasty meal at our ostriches' expense. We were able to lay humane traps to catch the egg thieves and resettle them well away from the zoo. – Gerry Creighton, Operations Manager, Animal & Grounds, Dublin Zoo.
EggsProtect with Axis
The Axis infrared cameras were integrated with Milestone XProtect Corporate video management software, enabling live and recorded video to be viewed on five different PC viewing stations around the zoo via XProtect Smart Client. A total of 140 new Axis network cameras were installed by Milestone Expert Certified partner Kelcom.
The system provided clear evidence of the egg thefts by wild badgers. It also revealed late night visits by wild otters who killed a number of flamingos. Zookeepers were able to study recordings of the wild otters and badgers and use this intelligence to position humane traps to catch and relocate them well away from the zoo. As a result, ostrich egg thefts stopped and the flamingo population began to grow once again.
Studying Animal Habits
The new IP video management system has also proved vital in studying animal behavior including group dynamics. The video captured the moments when ostrich eggs were being taken and eaten by wild badgers, and when otters found their way into the flamingo pool at night.
The badgers were sneaking in via a specific fence during the night, rolling the eggs under that same fence, pushing them up a hill, and letting them roll down to smash on a large rock. Dinner was served!
Dublin Zoo now leads the way in the use of cameras for observing the activities of animals, often providing video recordings and sharing live views with animal experts around the world. Dublin Zoo's Operations Manager, Gerry Creighton, regularly runs online training sessions, supported by the provision of live video from specific cameras during animal training sessions, births, veterinary procedures, feeding times, and other key events.
Brendan Walsh, Senior Zookeeper at Dublin Zoo, recently completed a three-year study of the zoo's eight elephants to better understand their sleep patterns and night-time behavior. His findings have provided new knowledge in this area:
Through intensive study of images gathered on the Milestone system from IR cameras installed in the bull and cow elephant houses, we learned a great deal about the varied sleeping patterns of elephants at different ages. Elephants sleep on average about four hours per night. They get this sleep in chunks, which tend to get longer as they get older. A young elephant will wake up more than 20 times per night, but older ones may only rise four times between the hours of 12 and 7 AM. That said, the oldest cow of the group – the matriarch – will sleep very little when baby elephants are around as it as her job to alert to any impending danger.
Global Knowledge Sharing

Dublin Zoo has several cameras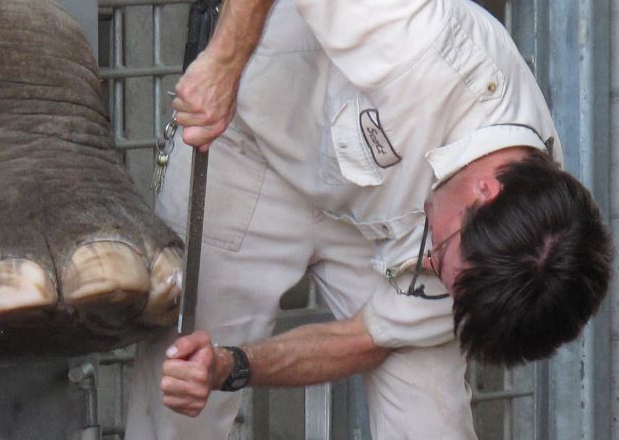 deployed in the elephant training area, where animals are taught to do a variety of activities, from presenting their feet for a routine pedicure or making it easier for keepers to perform medical inspections. Recordings from this training area are sent to Alan Roocroft, a world-renowned expert in elephant behavior, based in San Diego.
Every week, Alan reviews recordings of training sessions and informs Dublin Zoo of any concerns – all without the expense of flying him over to gain these insights. Veterinary consultants can also be sent video if keepers have health concerns for the animals they are looking after.
Irish national television channel RTÉ has a three-month series called 'The Zoo' which has been running for the last six years. The production team regularly use video recordings from the zoo's system for the show – airing elephant, big cat and gorilla births over recent years. This, combined with the use of five webcams displaying live views of animals on the zoo's website, has helped Dublin Zoo build its visitor numbers substantially. It now has more than 1.1 million visitors annually.
Video Technology in More Detail
The zoo runs a BCDVideo Nova Series RAID-5 server with 20TB storage capacity. These are optimized recording servers that are Milestone Certified for operation with the XProtect software portfolio – top performing units for video storage and management. The solution's design for this customer is set up to purge the archives every 10 days but can hold up to three weeks of video if needed. Backup recordings (used for the elephant sleep study, for example) are stored on a second 5TB Dell T41 server.
The zoo's operations manager and 12 of the 44 keepers employed at the zoo are authorized to access images around the clock via Milestone Mobile or the XProtect Web Client if they want to keep an eye overnight on animals that are under their charge. This remote capability would be particularly useful for monitoring birthing situations when many animals are more sensitive to physical human interaction.
View the full story at http://news.milestonesys.com/