What Today's Security Integrator Expects in Video Storage Solutions
In the past, integrators were pressured to compete in the surveillance market by building video storage solutions piece-by-piece. While this approach may have worked as a stopgap for smaller projects, there are often far too many risks involved with this do-it-yourself (DIY) approach: reliability suffers, project turnaround time drags on, scalability is non-existent, and the lack of a warranty proves costly. Losing data as a result of deploying a DIY solution is a liability to both integrators and end users.
A reliable, custom-built server at an entry-level price with enterprise-quality performance can seem like an unreasonable request – especially, for small projects. But, there are cost-effective video-optimized solutions available to meet the needs of any size project.
What to Look for in Customized Video Storage Solutions
Over the past decade, end users have moved away from buying the cheapest solution. The market has learned – the hard way – that these solutions come with less reliability, compromised performance, and poor warranty protection; however, low-quality solutions using consumer parts still tend to make their way into the market due to the pressure integrators face to cut costs.
Despite this negative trend, security integrators can maximize project performance and cost-savings by deploying video-optimized solutions custom-built for their project. By doing so, long-term repairs, video downtime, and poor performance are replaced with scalability, reliability, and accountability.  Not all video solution providers deliver what they promise, though.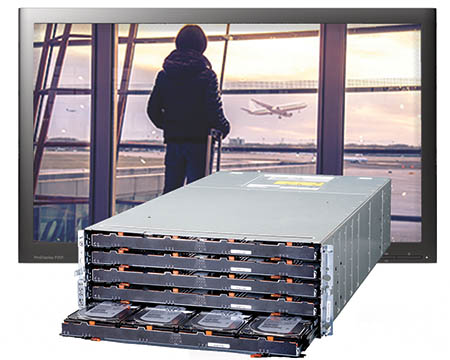 There are several key characteristics to look for in a video storage solutions provider that allows security integrators to reduce costs while maintaining reliability:
Video-optimized hard drives
Video data protection using RAID or Dynamic Disk Pooling
Quick response customer support
Five-year global bumper-to-bumper onsite warranty
Hardware innovation geared to integrator success
In addition, unique technology offerings set solution providers apart. At BCDVideo, video surveillance solutions come with unparalleled performance, innovation, and reliability regardless of the size and scope of the project. This is not a "cutting corners" marketplace – not when public and infrastructure safety is at stake.
Benefits of a BCDVideo Customized Solution
Pre-loaded VMS


Servers configured with all hardware, patches, current BIOS, and VMS
BCDVideo installs VMS license keys upon request, NIC's IP addresses, and registers all parties with the VMS company

Video optimized servers


Purpose-built for video – not an IT server recording video
VMS-certified technicians hand-building servers
Great bandwidth realization, thus more cameras per server than anyone