If you're in a demanding industry like the military, manufacturing or oil and gas, you need specialized technology to get the job done. Standard equipment can fail or even break in harsh environments because it is not built for such extreme conditions.
The same goes for video surveillance and analytics equipment. Outdoor security systems or in-line monitoring equipment must withstand extreme temperatures and motion for long stretches at a time. Video security for harsh environments is a rapidly evolving field in surveillance technology.
Learn more about what rugged servers are, how they enable IP video surveillance in harsh environments and what features to look for when making a decision.
What Are Harsh Environments?
A harsh environment puts excessive stress on mechanical and electronic equipment. Its specific characteristics can vary based on location and industry.
Characteristics of harsh environments may include:
Extreme temperatures: Generally, an extreme temperature is one that falls outside the range of -40°C to 125°C. Rapid temperature changes can also cause performance issues.
Mechanical stresses: Vibrations, pressure, shock and explosions are only a few examples of the mechanical forces that can create harsh environments. For example, high-pressure sprays in a car wash could damage an unprotected bus-mounted camera.
Chemical exposures: Highly corrosive, acidic or basic substances like cleaning solutions, saltwater and certain acids can destroy video recording equipment with open ports.
Harsh lighting: Although standard video security equipment may perform well in daylight, darkness makes it significantly more difficult to get a clear picture. Night vision applications require specialized equipment to capture and process quality footage.
Moving vehicles: High vibrational environments can destroy technology's sensitive inner mechanisms. For example, a camera mounted on a military vehicle is subject to enormous vibrations on a near-constant basis while in operation.
These circumstances can damage unprotected technological devices or interfere with their function, which can lead to mission-critical system failures and data loss.
What Equipment Is Made for Harsh Environments?
Engineers design harsh environment equipment for each specific application. This equipment contains additional or enhanced features that enable it to not only operate in their intended environments, but operate well.
Common examples of harsh environment video equipment include:
Radiation-tolerant IP cameras: Industries that deal with high levels of radiation, such as nuclear and healthcare, require radiation-hardened equipment to monitor operations such as energy generation and radiation therapy.
Ruggedized video recorders: Harsh environment video recorders record and store footage from the cameras for future reference. These should be compatible with the rest of a harsh environment video system for best results.
Harsh environment camera enclosures: These typically consist of stainless steel or chrome-plated housings for security cameras, offering additional protection against solid ingress and chemical exposure. They can often be modified to fit your exact specifications.
Important Features of Harsh Environment Equipment
Some of the top features for protecting video security equipment against harsh environments include:
Fanless heat dissipation: Fan-cooled systems tend to fail in extreme operating temperatures due to dust buildup from the surrounding environment. Passive cooling systems that use a fan-free design prevent this issue.
Power over Ethernet (PoE): PoE switches enable you to transfer data and power to a device using the same Ethernet cable, making it useful for building integrated security networks with fewer wires.
Solid-state drives (SSDs): Recording and storage equipment with moving interior parts can fail in vibrating environments, such as moving vehicles or manufacturing lines. Unified memory devices, such as SSDs or SD cards, prevent system damage.
AI-based video analytics technology can also enhance performance for harsh environment video security systems. This technology can identify and track specific objects and behaviors while ignoring other elements in the scene. Operators can more easily review footage even when details are difficult to make out.
IP Rating for Harsh Environment Equipment
When looking for harsh environment equipment, it's important to pay attention to each model's ingress protection (IP) rating. Developed by the International Electrotechnical Commission (IEC), the IP rating is often listed under a device's certifications and includes the letters "IP" followed by two numbers. The higher the number, the greater the protection.
In an IP rating, the first number relates to the device's protection against solid contaminants and the second refers to liquid forces. The highest possible IP rating is IP69, which means the device is protected from total dust ingress and jet-stream cleaning.
What Are Harsh Environment Servers?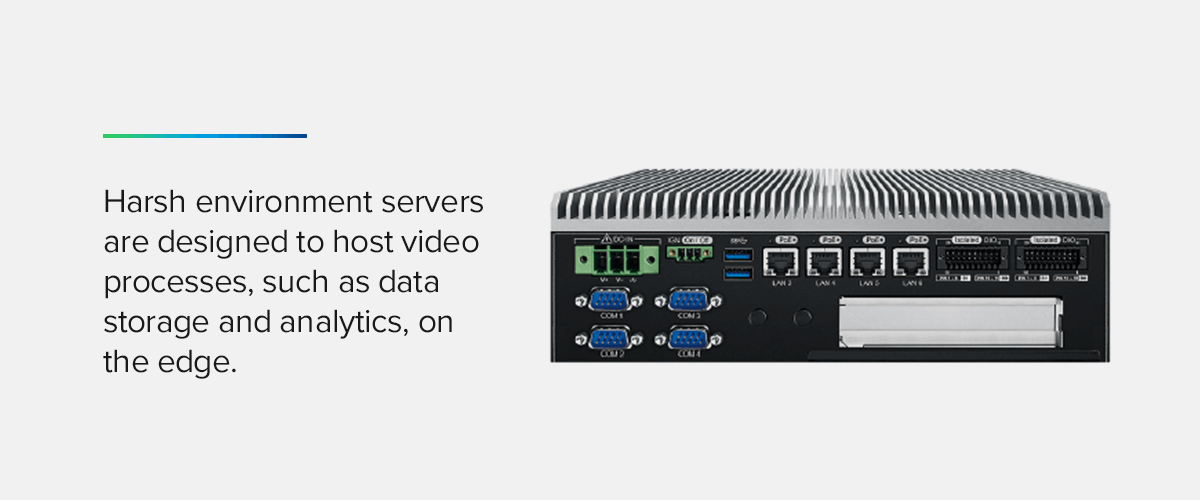 Harsh environment servers are designed to host video processes, such as data storage and analytics, on the edge. Because these servers are often remote, they must be able to withstand incredibly harsh conditions for long periods of time without losing performance.
Key capabilities of harsh equipment servers include:
Running analytics close to the capture of video
Hosting a reference database for analytics
Executing video analytics at the edge
Continuous operation with no downtime
Harsh environment servers are able to help your organization achieve economies of scale by hosting all your video and reference data on the same device. This capability helps you reduce labor costs by minimizing the need to deploy staff to the edge for maintenance processes. However, if a problem arises, professional support services can help you quickly diagnose and resolve the issue.
You can also expand a harsh environment server's capacity with graphics processing units (GPU) and high-capacity, high-speed SSDs.
Why Choose BCD for Harsh Environment Servers?
If you're looking for top-tier servers built to endure extreme conditions and mobile deployments, BCD has what you need. Our harsh environment servers are purpose-built to handle extreme temperatures with ease, so you can rely on them to provide continuous performance.
Here are the key features of our harsh environment servers:
High-performance cooling: Our fanless design enables our servers to dissipate heat for excellent performance in a broad temperature range with little to no airflow.
Solid ingress protection: All three of our harsh environment servers have an IP rating of IP40, meaning they are protected against all solid objects larger than 1mm. 
Advanced Intel® Core™ Processors: Our harsh environment servers contain 10th and 6th generation Intel® Processors, which are designed for intensive applications in extreme climates. 
Warranty: All our products include a standard 2-year hardware warranty, valid from the date of purchase.
Gigabit PoE ports: Use multiple cabling to connect any camera and PoE power device you wish without taking up valuable port space. 
Browse our product datasheets for specific details about our harsh environment servers.