Buffalo Grove, IL – May 12, 2020 – BCD International, Inc., the industry leader for purpose-built video surveillance storage solutions, today announced its revolutionary new Hybrid Hyperconverged Infrastructure (HHCI) solution.
BCD International comprises three divisions: BCDVideo, Video Storage Solutions (VSS), and BCDOEM. Since entering the market more than 20 years ago, BCD's extensive industry experience has enabled them to provide purpose-built video surveillance solutions and their new hybrid HCI solution is no different. BCD realized there was a need not only for a converged or hyperconverged solution, but instead a hybrid hyperconverged solution. REVOLV, which stands for "Revolutionizing Enabled Virtual Optimized Low-Latency Video" enables simplicity and is I.T. Ready.
"As designing high-availability solutions is where we started way back in 1999, you can say that today's launch took over 20 years to develop. This is right in our wheelhouse and in our DNA" said Chief Executive Officer, Jeff Burgess.
REVOLV Product Line
Unlike other HCI solutions that include storage in a shared pool of resources that can be used by the system, REVOLV is unique in that the storage is attached to the HHCI cluster and is operated as a storage area network, or SAN, with VMware handling communication between the two.
There REVOLV product line includes three options: Deepstor LITE, Deepstor and Deepstor +
Deepstor LITE is for initial HCI deployments and includes three servers and one SAN.
Deepstor includes four servers and one San with RAID 6 protection.
Deepstor+ includes four servers and two SAN that are mirrored. Data is written to each SAN simultaneously and each additional SAN protects HDD with RAID 6.
Powerful Partners
BCD has partnered with market leaders Dell and VMware in the development of this product portfolio. BCD worked closely with VMware to develop the HARMONIZE Software Suite, which is unique to REVOLV. REVOLV uses the complete version of VMware which means that you can always get assistance via VMware's support team,  or from BCD. This is unique to the HCI arena.
HARMONIZE Software Suite – What is it?
Each part of the HARMONIZE Software Suite optimizes REVOLV and brings you a system that gives you more: more tools, more control, and more peace of mind. While this powerful suite of six software components provides many management benefits, it is the integration with the VMS that sets HARMONIZE apart. Your management of virtually all of the REVOLV product you have chosen is done via the GUI of your video management system.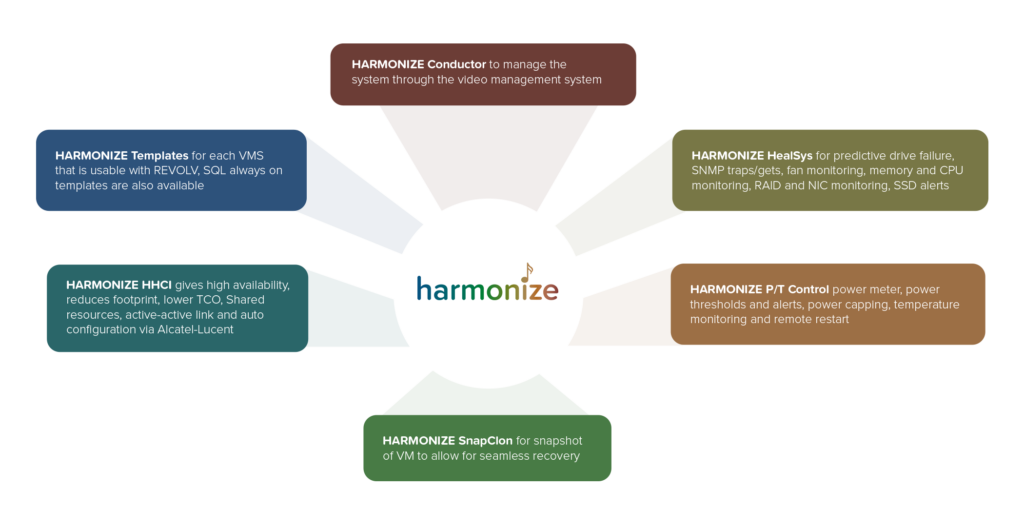 For more information: 1-833-REVOLV-1 or revolv@bcdinc.com