Milestone Systems Names BCDVideo
Technology Partner of the Year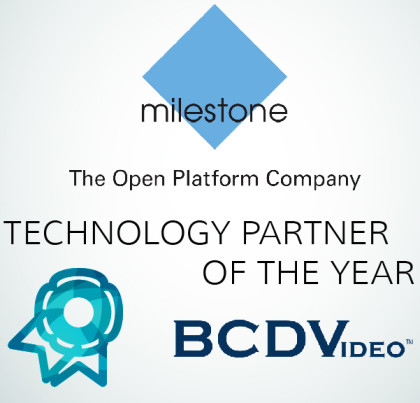 Northbrook, IL – Milestone Systems, headquartered in Copenhagen, Denmark, and the global industry leader in open platform IP video management software (VMS), tapped BCDVideo as their 2012 Technology Partner of the Year at their annual partner event February 18-19 in Las Vegas, Nevada.
In presenting BCDVideo with the award, Eric Fullerton, Chief Sales and Marketing Officer at Milestone said "BCDVideo worked with Milestone in developing systems specifically optimized for XProtect, engaging with Milestone engineering to deliver new prepackaged XProtect solutions globally. They also worked with Milestone to provide critical sales out information so we could better evaluate product segmentation and sizing. And lastly, they developed a streamlined process and website to deliver quotes and receive orders coordinating with the Milestone GTM channel".
BCDVideo is a global provider specializing in IP security storage and intelligent building network solutions. BCDVideo provides strategic solutions and design support to security integrators worldwide, offering a full product line of computer hardware solutions integrated with Milestone XProtect® software. BCDVideo brings together best-in-class products, ranging from 4TB to 600TB, all powered by HP. This includes the Fusion series, a Milestone-ready analog/IP hybrid unit. The company recently released the BCD4540V, dubbed "Big Bertha," at 180TB, the highest density IP server on the market today. All BCDVideo IP storage servers include a five-year worldwide warranty.
Our rapid growth within the security industry has been fostered by partnering with best-of-breed products, such as Milestone. They have been very supportive of our solution and go-to-market strategy; we are very appreciative of this recognition, stated Jeff Burgess, President and CEO of BCDVideo.
View the original article at securityinfowatch.com