Technology Partners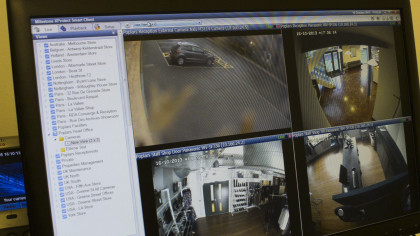 The server product company BCDVideo and video management software developers Milestone Systems offer zero downtime for mission-critical video systems of all sizes.
As two technology-driven companies, BCDVideo and Milestone Systems have shared a special partnership over the last seven years. So much so that in 2012 Milestone awarded BCDVideo its technology partner of the Year. And this year, BCDVideo's Nova Series of Milestone-optimised recording servers was not only certified for use on Milestone's XProtect software but also rated among the top-performing units for video storage and management. The BCDVideo unit ran 150 cameras on a single recording server at just 32 percent system resource utilization, providing a potential to support a further 300 cameras per server. BCDVideo's technology emphasis has been on high performance with reliability and robust scalability at the right price point.
Support
Jeff Burgess, President, and CEO, BCDVideo: "Years of working closely with Milestone's engineers has enabled us to excel in designing servers to support Milestone XProtect installs around the world. We deliver consistent quality to the Milestone customer." BCDVideo says its systems offer consistency, reliability, scalability, and affordability regardless of the platform on which they are built. The US company uses RAID technology in virtually all of its build platforms – in some cases three different RAID sets (RAID-1, -5 and -10 typically) simultaneously. The firm says that video data gathered by entry-level surveillance systems running four cameras in retail are equally as important to that business owner as enterprise-level units running 2000 cameras that it configures for global businesses, stadiums, oil processing plants, hospitals and university campuses around the world.
Disk protection
When delivering a solution for the retail market, BCDVideo can offer a purpose-built Milestone video solution on its Value server series. Available within this entry-level solution is RAID-1 technology, which allows the mirroring of up to 16TB of video data, enabling protection of both the operating system and Milestone XProtect video management software (VMS). This built-in disk protection eliminates the need for system restores in the unlikely event that the archiver crashes. By simply mirroring the data between these two disks, you can be sure that your data is secure and that you will not be affected by the downtime associated with disk failure following power outages, the product makers say. Some larger, more demanding installations require round-the-clock surveillance. If the footage is lost or frame dropout occurs, loss of evidence could seriously damage your business or even be life-threatening in some instances. Some of the 24-7 sites which Milestone and BCDVideo video systems support – casinos, airports, prisons, and hospitals for example – must now comply with onerous regulations governing the quality of data, length of time it can be kept and disposal regime. These sorts of sites often require large storage capacity, measured now in petabytes, due to longer than normal data retention periods.
Number of streams
With thousands of cameras at these locations, the number of video streams is very high. For instance, an installation with as little as 100 cameras can require over 50TB of weekly recording space. Some sectors in some regions now demand 120-days retention of video recordings. Along with the longer retention, these higher-end installations generally engage the highest resolution cameras possible, and high bandwidth. RAID technology delivers peace of mind with the knowledge that data and your reputation are both protected.
Market trends
Choosing Milestone and BCDVideo is about peace of mind for many customers. Those that need a high-performance system with resilience levels which virtually eliminate the risk of data loss go for BCDVideo. And the fact that the video recording platform and SMARTcontrol management software integrates so tightly with the open platform XProtect, makes the combination increasingly popular. Several market trends at work mean that more companies are specifying higher performance, robust, resilient and scalable BCDvideo servers married with Milestone VMS. The first is the fact that the market is finally moving away from stand-alone, analog-based CCTV and in the direction of IP video. Video data now must be moved quickly and efficiently across the network. Generally, we are also talking about moving and recording more data. The cameras themselves are more powerful – multi-megapixel HDTV and HD cameras are being specified increasingly. 4K cameras are reaching the market in numbers. In larger (and global) organizations video systems are being joined up and centrally managed to create management efficiencies. Often the scale of these task means that IT departments are involved in specifying the hardware and software to manage these new IP video systems. Video systems are being specified and configured to do far more than just video surveillance. They are increasingly becoming business intelligence tools, providing vital management information which firms use to monitor how their business is performing. They are using this video-based information to help them make better business decisions which improve their bottom-line.
Retail
Take the retail sector: some store chains are video-enabling their operations so cameras based in-store car parks which were once used merely to deter or prevent car crime can now also be used (via ANPR analytics at the edge) to welcome loyal customers and direct them to specific parking bays. In-store cameras can be used to improve retail experience and increase sales. For example, IP video systems can be integrated with dwell-time analytics software to help analyze which aisles and displays are working best to attract and retain shoppers. Trine Voss, Head of Solution Partner Program, Milestone Systems, said: "Many of our customers are now realizing the benefits offered by open platform IP video technologies that enable them to also pick and choose the server solutions that suit their needs perfectly. An open platform is about more than having the freedom to select the best cameras, it also offers the ability to embrace new and high-performance server solutions that can evolve and scale to future needs. We are very positive about all initiatives that enable our channel partners to deliver reliable, secure and high-performance server solutions to our mutual customers.
See original article at professionalsecuirty.com