With the adoption of advanced technologies like video analytics and edge computing, the computing requirements of the modern enterprise video security system are consistently increasing. Security integrators need to incorporate new hardware to meet these needs.
Using GPUs in video security enables higher performance and video processing efficiency. Multi-GPU deployments allow you to dramatically improve system performance and scalability.
What Are GPUs?
A graphics processing unit, or GPU, is a specialized microprocessor that manages various computing tasks, especially with image and video. Originally used in gaming to improve graphics rendering, GPUs are becoming increasingly common in other applications, including content creation, AI and video security.
While you may hear the terms "GPU" and "graphics card" used interchangeably, they are two separate parts. A graphics card is the board that contains the GPU and connects it to the rest of the system, and the GPU is the silicon chip that performs the computing.
There are two types of GPUs.
Integrated: An integrated GPU attaches to the motherboard and shares RAM with the CPU. This arrangement allows for a smaller footprint with reduced power consumption and lower operating temperatures. Most GPUs are integrated.
Discrete: A discrete GPU is separate from the motherboard and runs from its memory. This configuration adds processing power for resource-intensive applications, but it also means the device consumes more energy and runs at a higher temperature than integrated GPUs. Often, it will require dedicated cooling.
Using multiple GPUs can increase a device's available computing power, allowing for more network connections to other devices and new applications.
GPU vs. CPU — What Is the Difference?
The most notable difference between GPUs and central processing units is their intended functions. CPUs are generalist units, which means they handle all computing functions sequentially. They work by retrieving instructions from a computer's RAM, then decoding and executing them in order.
GPUs have hundreds or even thousands more cores than CPUs, which enables them to break down large tasks into many virtual "chunks" that can run simultaneously. This process makes executing computational tasks more efficient and paves the way for the development of new technologies like AI, high-performance computing, advanced 3D models and more.
How Do Video Security Appliances Use GPUs?
GPUs add processing power to video security appliances, expanding their functionality and creating new potential applications.
Because GPUs run multiple computing tasks in parallel, they accelerate workloads that would overload a standard CPU. For example, AI-poweredvideo analytics is an extremely resource-intensive process that would be overpowering for most CPUs. However, with its additional cores, a GPU can handle the demand without sacrificing performance.
In larger setups, a fully integrated GPU-based computer can even outperform most conventional network video recorders in throughput and processing. It can also enable systems to decode, or decompress, encoded video files, which requires more power than CPU-equipped systems can provide.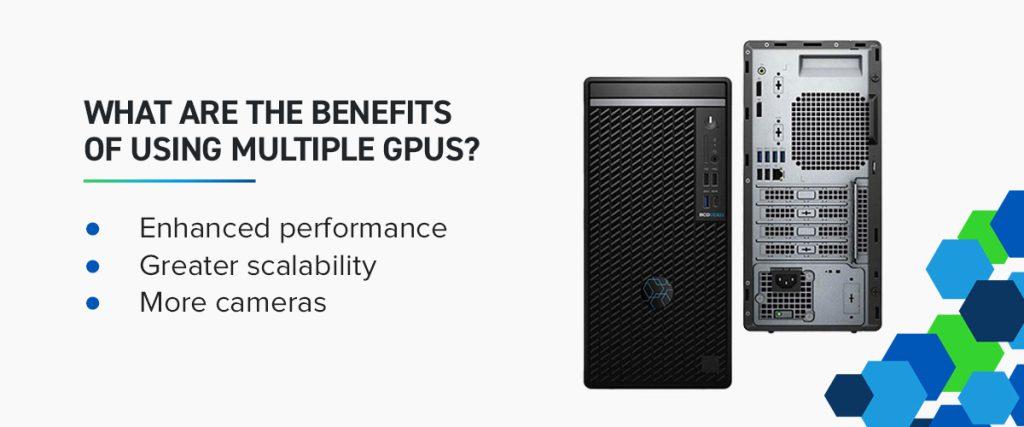 What Are the Benefits of Using Multiple GPUs?
Modern video security systems require massive amounts of computing power to function, especially in large-scale deployments like smart cities.
Here are the significant benefits of using multiple GPUs in a video security system.
Enhanced performance: With a multi-GPU setup, the system can divide heavy workloads between the cards. This arrangement enables the system to process more data, which allows for better resolution at higher frame rates.
Greater scalability: The more GPUs your system contains, the higher its potential processing power. If you need to scale your video security system, adding multiple GPUs can help you keep up with the increased processing demand.
More cameras: Most CPUs and single-GPU deployments can only handle a limited number of cameras at once. Using more than one GPU significantly expands the number of cameras you can connect to your workstation, allowing for greater coverage in busy environments like casinos and multi-building campuses.
Businesses considering scaling their system should consider investing in multi-GPU setups to meet the increasing demand.
Leverage the Protection Power of GPUs From Your Trusted Video Security Workstation Supplier
At BCD Video, we partner with leaders in the computing and software industry to provide innovative video security solutions for businesses and organizations across industries. Our multi-GPU video surveillance workstations are suitable for deployments in various environments.
Entry-Level Workstations
The Mini Tower BCDT01-ELWS workstation is compatible with a single- or dual-slot NVIDIA® T400 or T1000 GPU.
With up to 32 GB of RAM available, the BCDT01-ELWS can easily encode and decode video files. Its small footprint makes it suitable for limited-space applications, such as small businesses or single-building deployments.
Additionally, its Intel® 12th Generation Core™ processor provides up to 25% more processing power than the previous generation, enabling the workstation to handle even the most demanding computing tasks.
Professional Workstations
Our professional-level dual-slot GPU video security workstations provide power a step above that of the BCDT01-ELWS, with improved potential for hardware acceleration and computing.
While the BCD102SD-PWS Rackmount is compact, its smooth, powerful performance rivals that of larger systems. With the ability to support one dual-slot or two single-slot NVIDIA® graphics cards, including the NVIDIA® T400, T1000 or RTX4000 GPUs, you can customize your workstation to meet your application's unique needs.
This configuration provides up to 64GB of DDR4 RAM, enabling rapid response times and freeing up computing resources for demanding tasks. It also uses the latest Intel® ninth-generation processor, which provides approximately 20% more computing power than the previous generation.
The BCDT03-PWS, a compact three-bay tower workstation, can support either one dual-slot or two single-slot graphics cards for high-performance applications. Combined with its powerful Intel® 12 Generation Core™ processor and up to 64 GB DDR4 RAM, this GPU configuration ensures high efficiency and low latency.
Enterprise Workstations
Our enterprise workstation towers provide efficient video management and high storage capacity for large-scale IP camera systems.
The BCD208-EWS Enterprise 2U Rackmount workstation can support up to four single-slot NVIDIA® GPUs and two Intel Xeon Scalable Processors, enabling clients to operate at scale while maintaining excellent playback resolution and frame rates.
The BCDT05-EWS Enterprise Tower supports up to two dual-slot NVIDIA® TT400 or T1000 GPUs with 512 GB of DDR4 RAM, enabling it to meet the demanding requirements of widespread video security deployments.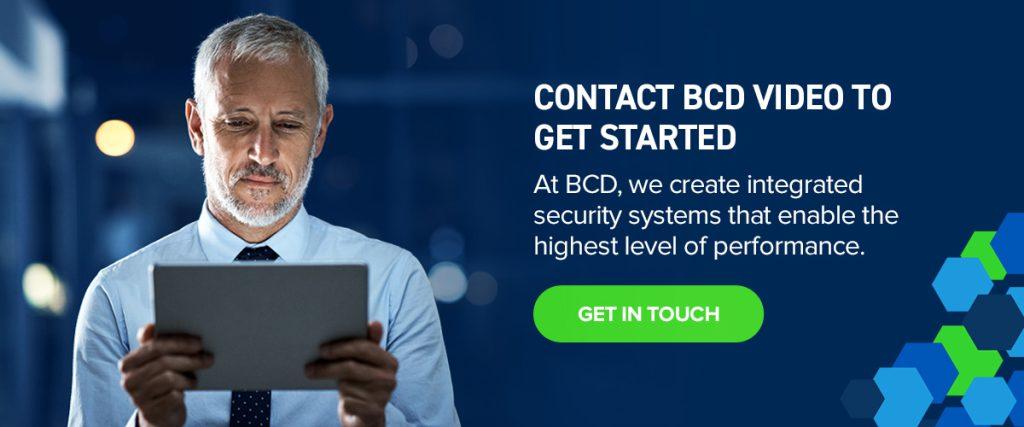 Contact BCD to Get Started
At BCD, we create integrated security systems that enable the highest level of performance. We've partnered with Intel and NVIDIA®, two pioneers in the computing space, to provide GPU-powered video security solutions for various applications.
Take advantage of the protection power of multiple GPUs. Ask your security integrator to contact us for more information on our NVIDIA® GPU video security workstations today.