What Do Franchises Need in a Video Surveillance System?
Your franchise's security features are important, whether it's a gym, restaurant, or gas station security system. In the past year, physical security incident rates have remained steady or increased for most businesses according to a recent report. Most respondents also reported they believed those rates were likely to rise, but almost half of those businesses have taken no steps to tighten their on-premise security.
Video security systems are vital to protect your franchise business. In this article, we'll explore what components you need to get started on your own video surveillance system and how BCD can help.
Basic Components of a Video Surveillance System
Regardless of your store's size and industry, there are a few appliances that are necessary for every internet protocol (IP) security system.
The basic components of video security systems for franchises include:
Cameras: These are the most essential part of your closed circuit television (CCTV) system. IP cameras have become the standard in recent years, though some businesses still rely on their analog predecessors.
Monitoring stations: Operators use CCTV monitoring stations to review camera feeds in real time. These stations are typically equipped with purpose-built software configured to your unique specifications.
Network video recorder (NVR): Modern CCTV systems usually include an NVR that processes and stores camera footage. Combining your NVR with a video surveillance workstation can help optimize recording performance.
Video management software (VMS): An integrated VMS consolidates all your camera input into one centralized data hub for easy access and management.
Storage devices: Standard storage drives rarely work in security deployments, which is why it's important to invest in specialized video storage devices for your system.
Power supply: Today's CCTV systems use simple power-over-Ethernet (PoE) connections that let you transfer power and data across your system using a single cable.
Wi-Fi router: Your router connects each device in your system to the internet so you can wirelessly transmit video data throughout your network.
Cabling: Standard cables for PoE-powered IP security networks are Cat5e and Cat6, but you may be able to use others depending on which devices you have in your system. If you choose not to use coaxial cables, though, you're going to need a balun connector to transmit video signals.
Strategic Partnerships for Top-Tier Performance
While we offer our customers a wide range of security appliances, we defer to other companies to fill some of the gaps. Our strategic partnerships with surveillance industry leaders enable us to deliver fully integrated, high-performance security solutions for franchise owners in every industry. These solutions come pre-loaded with our exclusive technology, creating unique and innovative systems suitable for various applications.
Validated VMS Solutions
Video management systems help security personnel manage and review inputs from all your CCTV cameras, sensors and other connected security devices. By consolidating all your data, a VMS helps simplify investigations and compliance management so your organization can save valuable time and energy.
We've partnered with the best of the best in software providers to create validated, fully integrated VMS solutions for businesses of all sizes. All BCD appliances are certified for use with the leading VMS, including Avigilon Control Center (ACC), Milestone Systems XProtect® and exacqVision Client.
Access Control Technology
Access control is important for preventing unauthorized users from accessing your organization's video data. It's a cybersecurity technique that restricts access to only the users you specify, which helps protect your business's most critical data from malicious actors.
We work closely with our access control partners to protect our clients' valuable information. Some of those partners include Gallagher Security, AMAG Technology and LenelS2.
Video Analytics Software
AI-powered video analytics tools use specialized algorithms to analyze footage and video metadata in real time so security professionals can recognize and respond to incidents faster. For example, an airport could use video analytics at security checkpoints to catch people exhibiting suspicious behavior in real time.
We've partnered with top providers, such as NVIDIA, Avigilon, Briefcam and Gorilla to design validated video analytics solutions for a variety of applications.
How BCD Can Help
If you're looking for a reliable technology provider for your security deployment, BCD can help you out. The following BCD products make excellent additions to digital surveillance systems for franchise stores.
All-in-One NVR
One of the most important aspects of franchise operations is making sure the customer experience is consistent from location to location. Choosing well-designed, user-friendly technology is one of the easiest ways to accomplish that goal — especially when it comes to security devices.
BCD's compact all-in-one NVR devices have a powerful Intel® Core™ processor and up to 80TB of disk storage, making them the perfect choice for small to medium-sized businesses looking for a security boost.
Entry-Level Video Workstations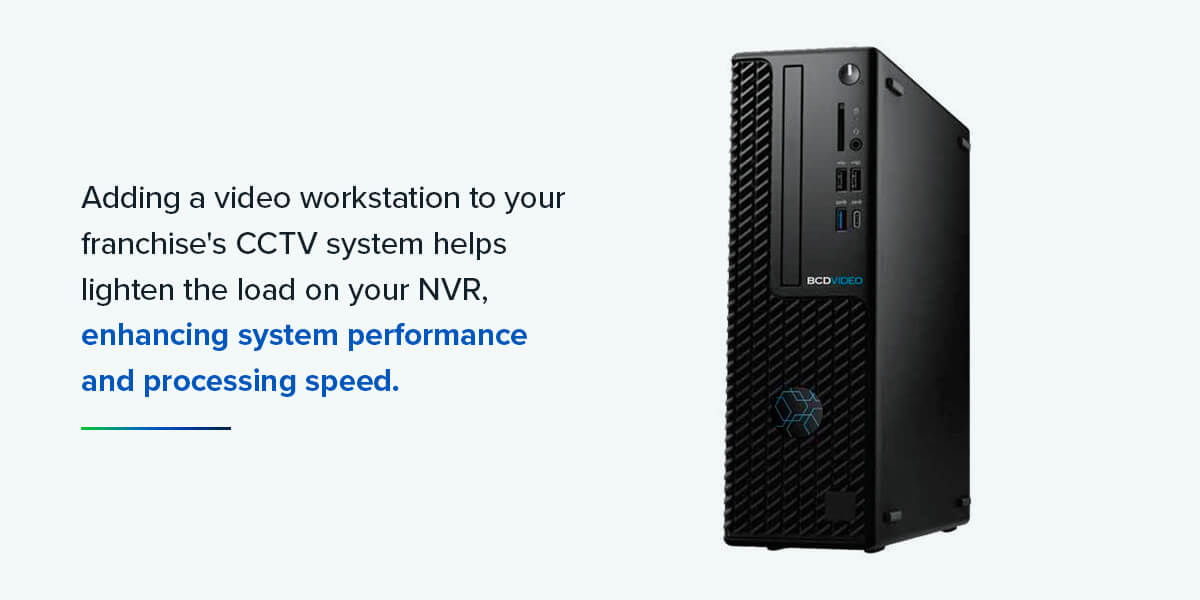 Adding a video workstation to your franchise's CCTV system helps lighten the load on your NVR, enhancing system performance and processing speed. Our entry-level workstations may be small in size, but they're also excellent performers —  up to 20TB of storage space and 32GB of high-speed random access memory (RAM).
Additionally, all our workstations deliver the fastest, most reliable video processing in the industry thanks to:
Ultra-high definition (UHD) Intel® Embedded Graphics
NVIDIA® graphics processing units (GPUs)
The latest generation Intel® Core™ Processors
We also offer a five-year, on-site warranty for all our workstations, so you can have peace of mind knowing that your investment is protected for years to come.
Video Accelerator
Unlike traditional configurations, which use live drives, BCD's Video Accelerator (BVA) for Milestone Appliances enables you to fully leverage your security system's storage space. This solution is perfect for franchise owners because it reduces the amount of extra hardware you need for a high-performance deployment. And less hardware means lower operating expenses.
Professional Services From BCD
And if you need additional resources or expertise to ensure project success, you and your security integrator can rely on our professional services. Whether you're handling a new installation or you want to optimize your existing system, our team of experienced professionals will assess and configure your network to meet your business's unique specifications.
Learn More About Franchise Video Security From BCD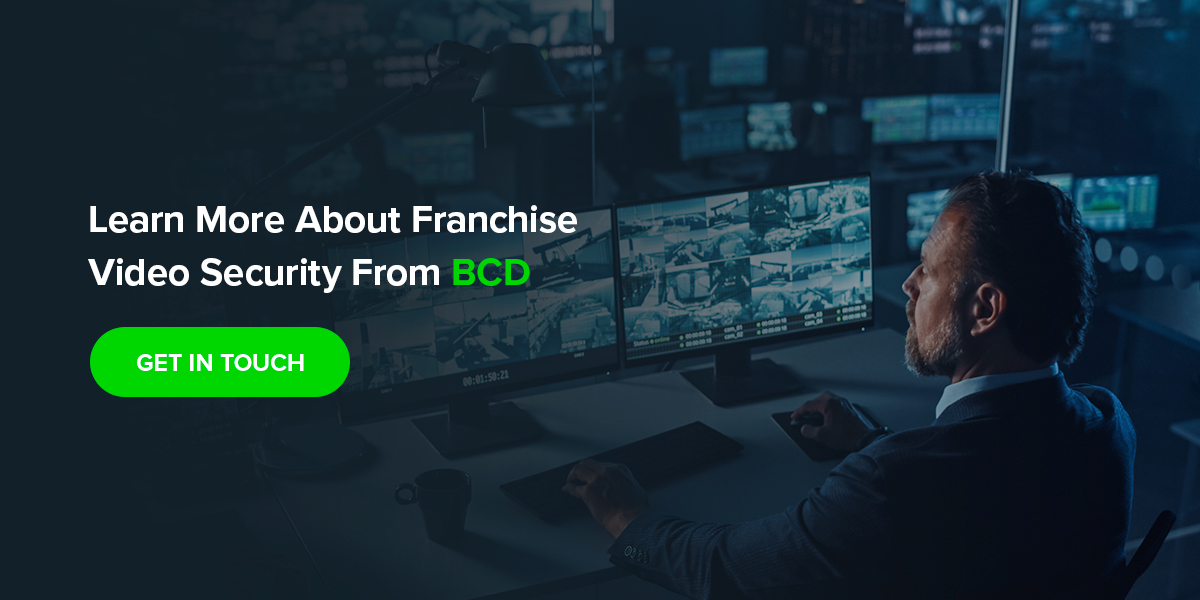 At BCD, we're dedicated to delivering reliable, high-performance video surveillance solutions for organizations of all sizes. And that dedication goes beyond providing industry-leading hardware and software. We help our customers get the most out of their investments through ongoing technical support and professional services — so whatever your franchise needs, we can help you design and maintain a system that works for you.
Are you looking for a way to bring your business's video surveillance to the next level? Get more information about our products and services by contacting us online, or by asking your security integrator.