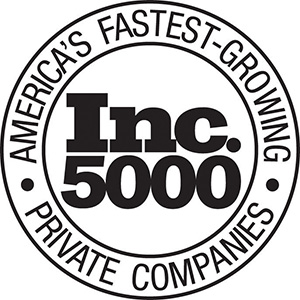 BCDVideo Named to the 2017 Inc. 5000 List of the Fastest-Growing Private Companies in America
Selected for the Second Time
Northbrook, IL – August 16, 2017 – BCDVideo, the industry-leading purpose-built video surveillance storage solution manufacturer, was named to the Inc. 5000 list for the second time. The 36th annual Inc. 5000, the most prestigious ranking of the nation's fastest-growing private companies, represents a unique look at the most successful companies within the American economy's most dynamic segment – its independent small and midsized businesses.
Companies such as Microsoft, Domino's Pizza, Pandora, Timberland, LinkedIn, Yelp, Zillow, and many other well-known names gained their first national exposure as honorees of the Inc. 5000.
"It is a tremendous honor to be recognized nationally for our rapid growth, especially for a second time. Lightning really does strike twice," said Jeff Burgess, President, and CEO of BCDVideo. "By servicing the worldwide video security market, we take what we do very seriously and manufacture our products with great pride and an even greater sense of responsibility. This is an honor we share with our loyal customers and vendor partners."
For nearly two decades, the name BCDVideo has been synonymous with both manufacturing innovation and stellar customer service in the computer security industry. BCDVideo presently has over 50,000 systems recording video surveillance in 51 countries, either as BCDVideo-branded products or privately-labeled for the largest security customers in the world. In addition to video recording devices, BCDVideo offers access control systems, networking, and professional services to its security integrator customers.
"The Inc. 5000 is the most persuasive evidence I know that the American Dream is still alive," says Inc. President and Editor-In-Chief, Eric Schurenberg. "The founders and CEOs of the Inc. 5000 tell us they think determination, risk-taking, and vision were the keys to their success, and I believe them."
BCDVideo is scheduled to relocate to their new 51,000 square foot corporate headquarters and Innovation Center in October 2017.
For media inquiries: marketing@bcdvideo.com